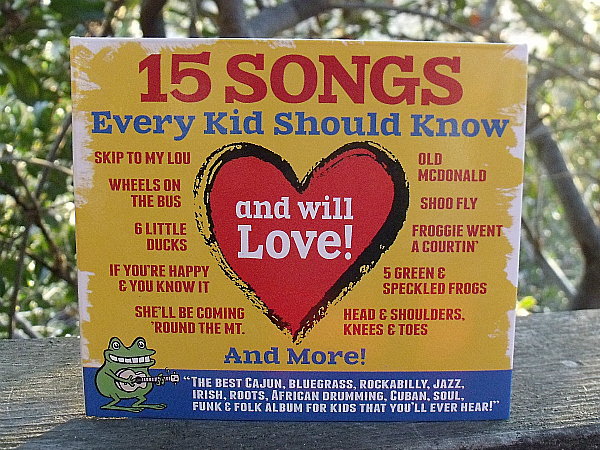 When I was a kid, I had a record album that included many of these songs. I listened to it over and over again on my red and white plastic record player. (Yes, I'm that old) I knew every word and sang and danced along with the music. Naturally, the record ended up with skips on it due to the dancing. It provided many hours of fun and helped me learn to love music from a young age.
15 Songs Every Kid Should Know is a lot better quality than I had growing up, but the songs are just as entertaining as I remember. The lyrics are kid-friendly and often silly. The music is fun and represents a variety of musical styles – Cajun, bluegrass, rockabilly, funk, folk, Irish, African drumming, jazz and more. The vocals are clear, so kids can understand them and sing along.
The CD is called "15 Songs" but there are actually 16 tracks:
5 Green & Speckled Frogs

Shoo Fly
The Itsy Bitsy Spider
Old McDonald
If You're Happy & You Know It
Waltzing Matilda
6 Little Ducks
Head & Shoulders
Skip To My Lou
I've Been Working on The Railroad
Aiken Drum
Wheels on The Bus
She'll Be Coming 'Round The Mountain
Hush Little Baby
Froggie Went a Courtin'
Kids can have fun listening to the CD at home. It's also a great choice for in the car, since it can keep kids entertained for hours as they sing along with their favorites again and agian!

CONNECT – You can like the CD on Facebook.
Enter daily through the Rafflecopter form below: