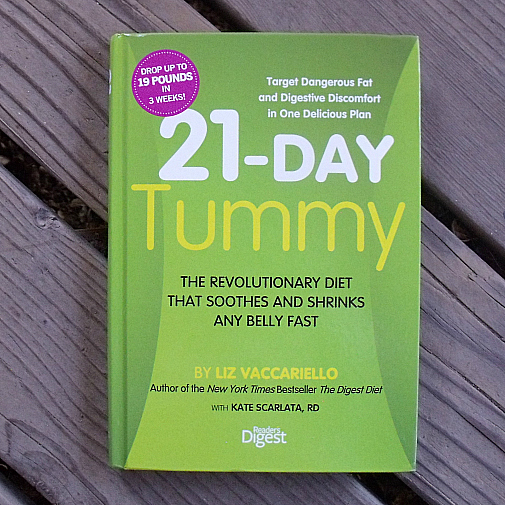 How would you like to feel good and get rid of some belly fat?  This book just might be able to help you do both of these things!
Liz Vaccariello is the editor-in-chief of Reader's Digest. She's also an expert on health and nutrition. She has put what she's learned into practice and has experienced positive results firsthand. You may already be familiar with her previous books that include The Digest Diet and Flat Belly Diet. As you can see, there is a trend here with these books. She understands that what we eat can have a positive or negative impact on the way we feel and the way we look.
The 21 Day Tummy is a step by step plan to help you see and feel results quickly. You'll learn the science behind nutrition, weight and belly troubles and you'll learn how to make changes in your own life. Instructions and recipes are included. The plan is set up to be completed in 21 days, but the habits you pick up can continue to have good results long after the 21 day plan is completed.
21 Day Tummy

The Revolutionary Diet That Soothes and Shrinks Any Belly Fast
by Liz Vaccariello
isbn 978-1621451112
Pub. date 12/26/13
Description: "We love to eat but that doesn't mean our stomachs always enjoy digesting what we put in them. Add to this the fact that our nation is heavier than it's ever been, and it's clear that our tummies don't just need to function better, they need to be smaller. In general, smaller stomachs digest food more effectively, and that's why dropping the pounds isn't just a matter of vanity but of health. Featuring carb-light, anti-inflammatory foods, the 21-Day Tummy eating plan slashes inches from your belly (up to 4 ½ inches!) while banishing gas and bloating, heartburn and acid relux, constipation, diarrhea, and irritable bowel syndrome (IBS)."
Enter daily through the Rafflecopter form below: