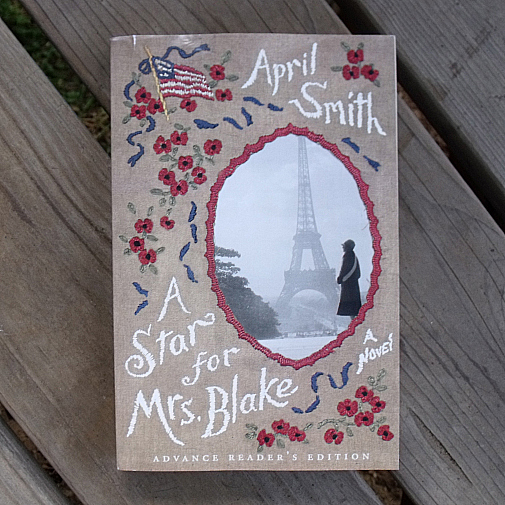 Fascinating!
A Star for Mrs. Blake is a moving novel that takes place a decade after the end of World War I. Even with the passing of time, the pain and loss is still very real for mothers who lost their sons. The story follows Cora Blake as she travels to a cemetery in France to say goodbye to her son and work through her grief.
The novel is written by April Smith. You may be familiar with her other novels, which include North of Montana and Good Morning, Killer. The latter was also made into a TNT original movie.
As a mother of sons, I can only imagine how hard it would be to deal with this loss. April Smith really gets to the heart of the matter in this fictional tale that is based on historical events. The book is hard to put down and the author allows us to get to know the characters in deeply personal ways.
A Star for Mrs. Blake

A Novel
by April Smith
isbn 978-0307958846
Pub. date 1/14/14
Description: "An emotionally charged, brilliantly realized novel set in the 1930s about five American women-Gold Star Mothers-who travel to France to visit the graves of their World War I soldier sons: a pilgrimage that will change their lives in unforeseeable and indelible ways. The women meet for the first time just before their journey begins. In Paris, Cora Blake, a single mother and librarian from coastal Maine, meets a journalist whose drug habit helps him hide from his own wartime fate-facial wounds so grievous he¹s forced to wear a metal mask. This man will change Cora¹s life in wholly unexpected ways. And when the women finally travel to Verdun to visit the battlegrounds where their sons fought as well as the cemeteries where they are buried, shocking events will guarantee that Cora¹s life and those of her traveling companions will become inextricably intertwined. Only now will they be able to emerge from their grief and return home to their loved ones."
Enter daily through the Rafflecopter form below: