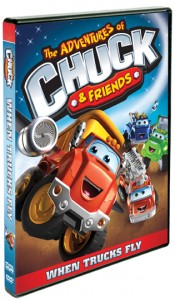 The Adventures of Chuck & Friends
When Trucks Fly DVD
Rel. date 2/19/13
Synopsis: "The unbelievably fun adventures of Chuck, the little dump truck with big dreams, and his friends—Digger, Handy, Rowdy, Biggs, Boomer and Flip — continue with 10 more exciting cartoons fromThe Adventures Of Chuck & Friends.  Watch them roll, race and fly their way to adventure and friendship! No matter what obstacles are in his way, Chuck knows that with good friends and a little imagination, he's always going to cross the finish line a winner."
Normally, I wouldn't use the word "adorable" to describe a dump truck, but … that word is absolutely appropriate when it comes to Chuck. This little dump truck is fun for kids and he has a great attitude that is contagious.
When Trucks Fly includes 10 episodes from the popular TV show that airs on HUB TV in the US and on Treehouse in Canada. There is also a Sing-Along bonus feature that's lots of fun.
When Trucks Fly
Unidentified Rolling Objects
On a Role
Mystery He Rode
Anchors Awheel
Senses of Direction
Super Sweeper Chuck
Keep on Trackin'
The Lost Hubcap of Gold
Shine On
The DVD contains almost 2 hours of programming. That's much more than a lot of popular kids' DVDs, so this one is a great value. With the variety of the episodes, kids will want to watch it again and again.
The Adventures of Chuck & Friends is definitely entertaining and fun for kids, but each episode reinforces good life lessons. I don't think any of us would choose to raise little couch potatoes, but a little down time in front of a screen can be a good thing when the programming is good quality. Chuck & Friends fits the bill.
CONNECT – You can like Shout Factory on Facebook and follow them on Twitter.
Enter daily through the Rafflecopter form below: