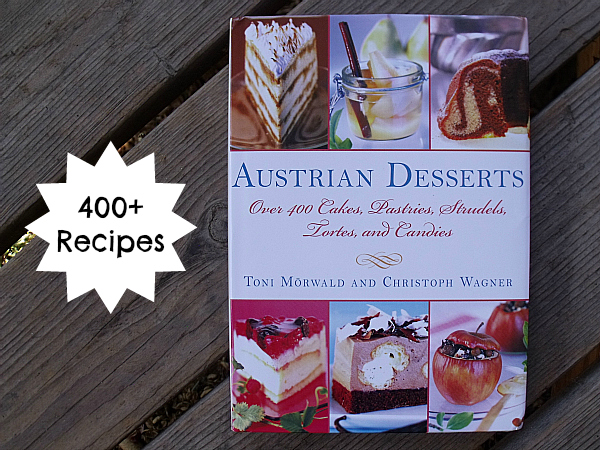 Ahhh …. this is the kind of cookbook that I could spend hours and hours just looking at the the mouth-watering photographs and recipes! Each one is a beautiful treat.
The authors are an interesting pair that make this a unique book. Both have their Austrian heritage and a love for fine food in common, but their careers have taken different paths. Toni Mörwald is an award winning pastry chef. Christoph Wagner is a culinary writer and critic. Together they have authored a book that is functional and fascinating.
Austrian Desserts

Over 400 Cakes, Pastries, Strudels, Tortes, and Candies
by Toni Mörwald and Christoph Wagner
isbn 978-1616084349
Pub. date 5/22/13
Synopsis: "Austrian Desserts artfully balances good old tradition with the dessert needs of a new generation. These are "up-to-date" baked goods—the recipes cater to modern dietary habits by, wherever possible, including lots of fruit, soft dough, and light and airy creams, as well as placing importance on portion size. But don't worry; there's still plenty of chocolate, whipped cream, marzipan, and ice cream` to go around, too! These exquisite creations are sure to please every palate."
I love purchasing and eating European pastries, but am often intimidated at the thought of trying to prepare them myself. The photos in this book did look intimidating to me, but when I looked at the actual recipes, I realized that they are very clearly explained and not so intimidating after all. Each step has the details that will help me get good results at home. Many of the recipes also include step by step photographs of the process.
Here are a few of the standouts:
Streusel Cake

Cream Strudel
Pear Compote
Wild Berry Marmalade
Creme Brulee
Hazelnut Souffle
Austrian Desserts is a beautiful book that would make a lovely gift!
Enter daily through the Rafflecopter form below: