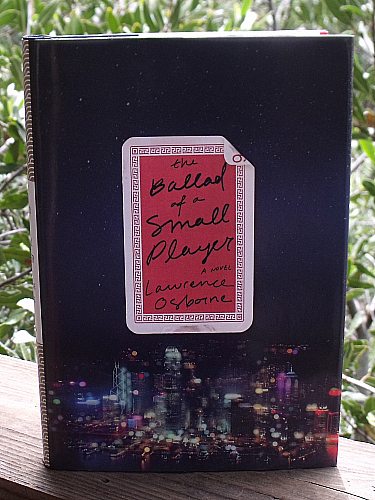 Sometimes when I read books, I find myself identifying with the characters, their circumstances or the location of the setting for the story. Other times, the people are nothing like me and the setting is unlike anywhere that I have ever been. The latter is the case for this novel.
The Ballad of a Small Player is a thought provoking novel. I went into it wondering if I would find some way to connect with the characters. The story is about people who are not nice or ethical, but underneath the surface they are quite human. This is not a feel good, romance novel heading for a happy ending. The whole thing is rather depressing and will make you think about money, love and how you might react in similar situations.
Lawrence Osborne previously authored the fictional book,  The Forgiven, and has written other non-fiction works. He has travelled extensively and lived in many different countries. His travels and lifestyle contribute to his ability to write fiction that has a realistic feel.
The Ballad of a Small Player

A Novel
by Lawrence Osborne
isbn 978-0-8041-3797-3
Pub. date 4/1/14
Description: "As night falls on Macau and the neon signs that line the rain-slick streets come alive, Doyle – "Lord Doyle" to his fellow players – descends into his casino of choice to try his luck at the baccarat tables that are the anchor of his current existence. A corrupt English lawyer who has escaped prosecution by fleeing to the East, Doyle spends his nights drinking and gambling and his days sleeping off his excesses, continually haunted by his past. Taking refuge in a series of louche and dimly lit hotels, he watches his fortune rise and fall as the cards decide his fate. "
Enter daily through the Rafflecopter form below: