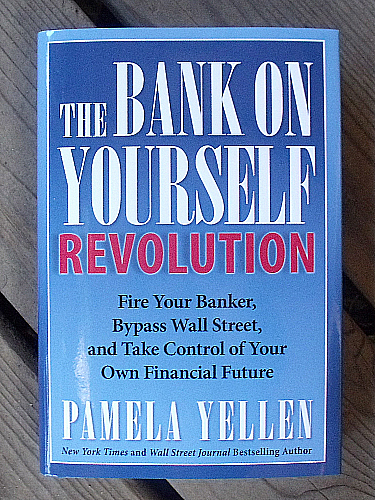 How many of you have been hit hard financially in the last six years? Whether you took a direct hit to your investment portfolio or lost a job, I think most of us have realized that we can't blindly trust others with our finances. Even so-called experts are looking out for their paycheck and may not steer you into the right investment for you.
When you take a risk on Wall Street, you really can lose it all. The stock market is volatile and there are no guarantees when you take financial risks. How can you properly plan for your retirement, if you have no idea how much money you'll have?
Pamela Yellen is a financial security expert who wants to help you gain control of your own future through The Bank on Yourself Revolution. You don't literally need to fire your banker (but you may want to). The key here is to take control and make wise, informed decisions that won't lead to financial peril. She has done her research and has laid out very practical advice that you can use as a tool to make your own plan.
When it comes to finances, it definitely makes sense to make wise decisions that don't rely on others who don't have your best interest in mind. We should all learn to bank on ourselves and this book is an excellent resource and motivator.
The Bank On Yourself Revolution

Fire Your Banker, Bypass Wall Street, and Take Control of Your Own Financial Future
by Pamela Yellen
isbn 978-1939529305
Pub. date 2/11/14
Description: "Do you know what your retirement account will be worth on the day you plan to tap into it? Do you know what the tax rates will be for the rest of your life? Do you know how long you're going to live? Most people have no clue…and that's the problem with conventional financial planning: It's based on things you can't predict or control. Wall Street lost more than 49{80aa08cd1591a69daf2c4c354f40b4c82aa989aee5ead2df0fd7028e5eba6bba} of the typical investor's money – twice – since the year 2000. And studies show that because they followed the conventional wisdom, almost half of all Boomers won't have enough money to cover even basic living expenses during their retirement years."
Enter daily through the Rafflecopter form below: