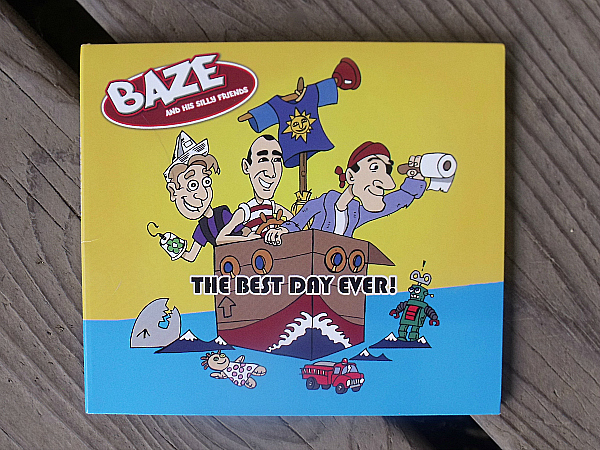 Baze and His Silly Friends are just as fun and silly as they look on their CD cover! The music is happy, energetic and imaginative. It's made for singing, dancing and giggling.
Marc Bazerman (AKA Baze) is the leader of the group and is dad to 2 little boys who give him inspiration. The other members of the band have experience in kindie rock and adult rock. One of the band members was a member of the original Blues Brothers band! The musicians are talented and have adapted their skills to be kid friendly.
The music has good energy and the lyrics are very clear and easy for kids to understand. The songs are about everyday things that kids will be able to relate to and have fun with.
Baze and His Silly Friends supports Autism Speaks. A portion of their CD sales is donated for autism awareness.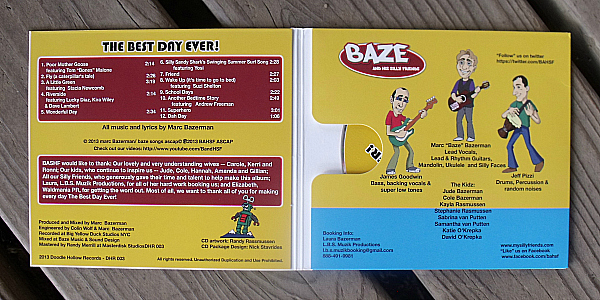 Baze and His Silly Friends

The Best Day Ever! CD
Doodle Hollow Records
29 October 2013
Poor Mother Goose
Fly (A Caterpillar's Tale)
A Little Green
Riverside
Wonderful Day
Silly Sandy Shark's Swinging Summer Surf Song
Friend
Wake Up (It's Time To Go To Bed)
School Days
Another Bedtime Story
Super Hero
Dah Day
CONNECT – You can like Baze and His Silly Friends on Facebook and follow them on Twitter.
Enter daily through the Rafflecopter form below: