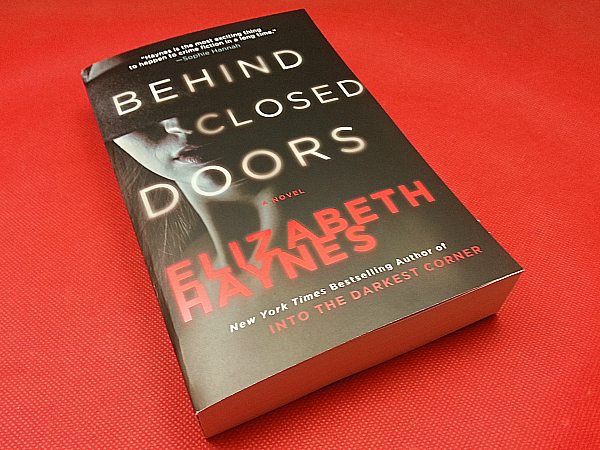 Thrillers are my favorite genre of fiction, especially smart thrillers with realistic details and a plot that keeps you guessing as the story is revealed.
This is exactly the type of novel that Elizabeth Haynes crafts. She has published five crime novels and I've enjoyed each one – Into the Darkest Corner, Dark Tide, Human Remains, Under a Silent Moon and the latest, Behind Closed Doors.
Before becoming a best selling author, she worked as a police intelligence officer where she determined patterns in criminal behavior. The skills she developed on the job combined with her literary talents, make her novels compelling and hard to put down.
Like her other novels, Behind Closed Doors feels as if it could be real and the characters are people that I could know. The book is nearly 500 pages long, but reads very quickly once you get wrapped up in the fast paced story.

Behind Closed Doors

A Novel
by Elizabeth Haynes
isbn 978-0062276117
Pub. date 3/31/15
Description: "Ten years ago, fifteen-year-old Scarlett Rainsford vanished while on a family holiday in Greece. Was she abducted, or did she run away? Lou Smith worked the case as a police constable, and failing to find Scarlett has been one of the biggest regrets of her career. No one is more shocked than Lou to learn that Scarlett has unexpectedly been found during a Special Branch raid of a brothel in Briarstone.
Lou and her Major Crimes team are already stretched working two troubling cases: nineteen-year-old Ian Palmer was found badly beaten; soon after, bar owner Carl McVey was found half-buried in the woods, his Rolex and money gone. While Lou tries to establish the links between the two cases, DS Sam Hollands works with Special Branch to question Scarlett. What happened to her? Where has she been until now? And why is her family—with the exception of her emotionally fragile younger sister, Juliette—less than enthusiastic about her return?"
Enter daily through the Rafflecopter giveaway form below: