Are you up for a challenge? Then, now is the time for enter for a chance to win a GoPro, Nintendo Switch or Amazon Echo giveaway.
Envision Windshield Wiper Challenge
Prizes:
Amazon Echo, Nintendo Switch or GoPro
Valid in these states:
Alaska, Colorado, Connecticut, Delaware, Idaho, Illinois, Indiana, Iowa, Kansas, Kentucky, Maine, Maryland, Massachusetts, Michigan, Minnesota, Missouri, Montana, Nebraska, New Hampshire, New Jersey, New York, North Dakota, Ohio, Oregon, Pennsylvania, Rhode Island, South Dakota, Utah, Vermont, Virginia, Washington, West Virginia, Wisconsin and Wyoming.
Click HERE for entry instructions and official rules.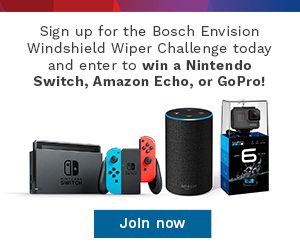 Also, check out these other current sweepstakes.