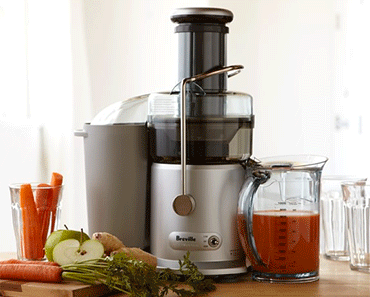 You like fresh juice, right? Then, the Breville juicer giveaway would be so much fun to win!
This particular juice extractor has lots of handy features, so it can easily become a part of your daily routine. It's built for safety, speed and convenience. Also, making juice at home is much easier on the budget than daily stops at a juice bar.
Whether you like a simple orange juice, a multi-ingredient green juice or something else, this machine will get the job done. This is an excellent feel good way to start your day with healthy and tasty nutrition.
Prize:
Breville JE98XL Juice Fountain Plus 850-Watt Juice Extractor
arv $150
18+, US
Ends May 18th, 2018
Click HERE for entry form and official rules
Also, check out these other current sweepstakes and enter for your chance to win some amazing prizes.