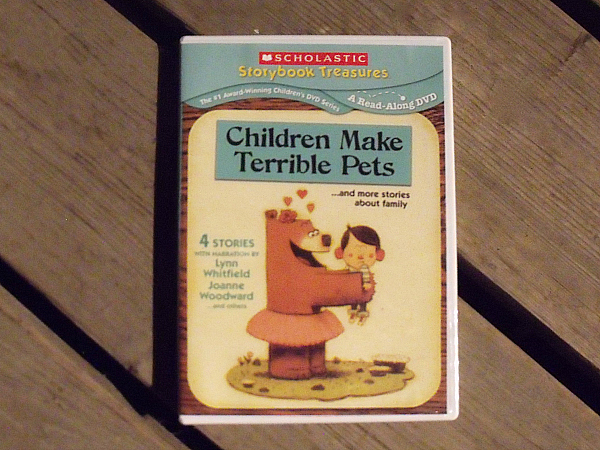 I hadn't really thought about it before, but it's true. Children do make terrible pets!
As you can imagine, this story is hilarious.
Scholastic brings this story and three others to life on this new Storybook Treasures Read-Along DVD. The theme that the stories have in common is family. As we know, family is important and it no two families are exactly the same.
With some of the Scholastic DVDs, I'm already very familiar with the stories and have read them many times. This time, all of these stories were new to me. Children Make Terrible Pets is a new favorite!
Children will enjoy reading along with the DVD. It's like reading a book, but has sounds and visuals that you can't get just from reading the book. Even kids who normally have a hard time sitting still for a book, can enjoy the DVD and they just might realize that reading is wonderful!
Children Make Terrible Pets

And More Stories About Family
Scholastic Storybook Treasures DVD
Release date 8/27/13
This DVD includes 4 read along stories and interviews with authors and illustrators:
Children Make Terrible Pets –  Lucy, a young bear, meets a charming little boy in the forest. When she brings him home, her mother cautions her "children make terrible pets."
All The World – This story follows a circle of family and friends over the course of a day and shows the importance of all things great and small in our world.
Crow Call – Liz and her father, who has been away at war for longer than she can remember, begin their journey to reconnect.
Elizabeti's Doll – When her new baby brother arrives, Elizabeti, a young Tanzanian girl, longs to care for something of her own.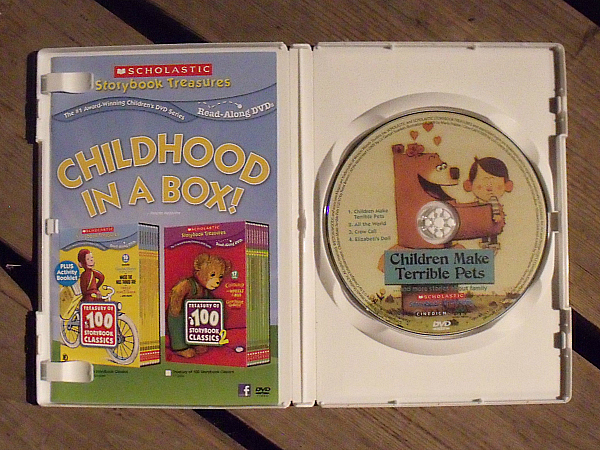 CONNECT – You can like New Kideo on Facebook.
Enter daily through the Rafflecopter form below: