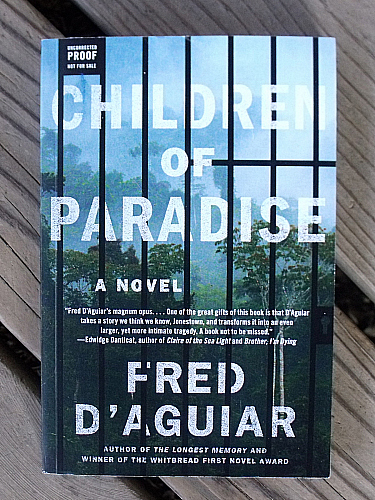 Do you remember the Jonestown massacre in 1978? I was in junior high at the time and didn't typically pay too much attention to the news, but definitely took note as this shocking story unfolded. Even though it happened on foreign soil, these were US citizens and these church members journeyed to Guyana from my home state of California.
Children of Paradise is a fictional novel based on the People's Temple, Jim Jones and the Jonestown massacre. The basic facts are based on history as we know it. The personal stories running through the novel are fiction, but are tied closely enough to historical fact that it feels possible. From these characters we gain insight into what these people may have been thinking prior to heading to Guyana and after they were there.
The book is fascinating and I hope we don't see something like this happen again.
Children of Paradise

A Novel
by Fred D'Aguiar
isbn 978-0062277329
Pub. date 2/11/14
Description: "Joyce and her young daughter, Trina, have followed a charismatic preacher from California to the wilds of Guyana, where a thousand congregants have cleared a swath of dense jungle and built a utopian society based on a rigid order guarded over by armed men and teenage "prefects." Each day ends with sermons that demonstrate the preacher's capricious violence and his utmost hostility toward even a whisper of skepticism. But try as the preacher may to block out the world, the commune's seclusion is being breached, first by tribal elders complaining of polluted river water downstream, then by an invisible presence that has helped a young boy to disappear, and finally with rumors of the imminent arrival of a congressional delegation on a fact-finding mission."
Enter daily through the Rafflecopter form below: