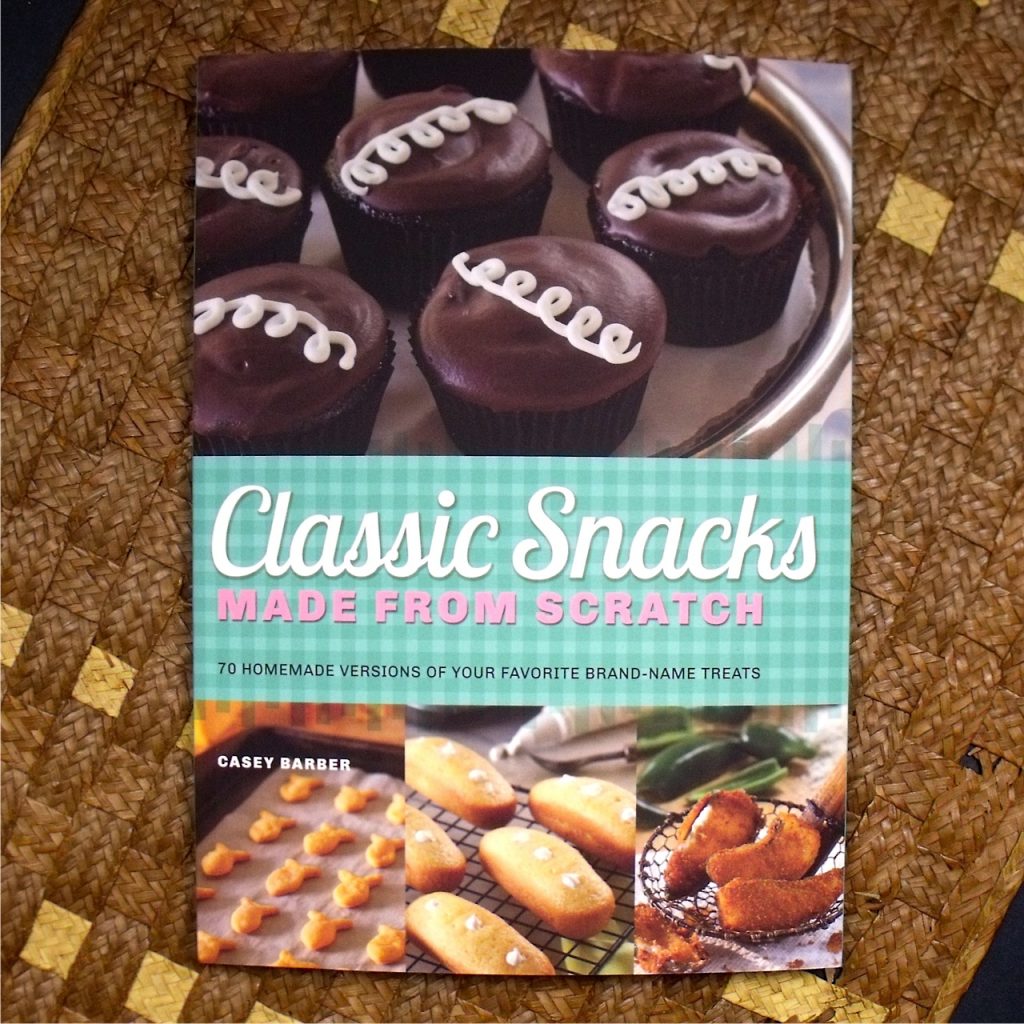 Classic Snacks Made from Scratch
70 Homemade Versions of Your Favorite Brand-Name Treats
By Casey Barber
isbn 978-1612431215
Pub. date 2/19/13
Description: "Create all-natural, handcrafted versions of classic favorite treats like chocolatey imitation Oreos, salty home-cooked potato chips, and fluffy DIY Twinkies from a noted copycat chef and food blogger. Everyone has a guilty pleasure — a couple of Nutter Butter® cookies after lunch, Cheetos® while watching sports on TV, or maybe a poolside Fudgesicle® on a hot summer day. And who's to judge? There's nothing wrong with a little indulgence! Except that brand-name snacks are often packed with unhealthy preservatives, unnatural colorings, and unwanted chemicals. This book answers the junk food dilemma by serving up recipes for delicious versions of everyone's favorite nostalgic treats using high-quality, all-natural ingredients."
What fun!
I'm not much of a junk food eater. I really don't like the "junk" that's on the ingredient lists, so I have no problem resisting the temptation to go on a junk food binge. Still, classic junky treats bring back happy memories. I wasn't allowed to have junk food very often. When I did, it was a real treat. Now that I get to choose my own food, I don't choose junk.
But…. I still enjoy treats.
With Classic Snacks Made from Scratch I can make my own "junk" food out of good ingredients instead of chemicals and artificial stuff.
All of these recipes look authentic. There are cookies, cakes, cheesy snacks, salty snacks, ice cream treats and candies, fruit filled treats, fried snacks, frozen snacks, dips and spreads.
Here are some of the recipes that look especially good:
Oreos

Graham Crackers
Twinkies
Cheez-Its
Wheat Thins
Fudgsicles
Peeps
Strawberry Pop Tarts
Tater Tots
Cheez Whiz
I'm looking forward to creating their natural versions of these popular foods. The pictures look great and the instructions are clear.
Classic Snacks Made From Scratch is a fun cookbook!
CONNECT – You can like Ulysses Press on Facebook and follow them on Twitter.
Enter daily through the Rafflecopter form below: