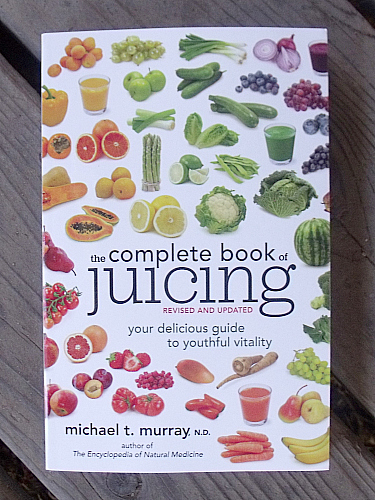 Do you juice?
Juicing has become a healthy way of life for many. It's a great way to get maximum nutrition from our fruits and vegetables. Some of you may juice daily or do cleanses where you drink nothing but juice. I choose to juice as part of my healthy routine along with other nutritious foods.
Michael T. Murray's Complete Book of Juicing is a fantastic resource guide that was recently revised and updated with new information. The book is helpful for beginners who want to understand the basics and create some tasty, nutritious beverages and it's also great for regular juicers who already have a lot of experience.
You'll learn the hows and whys of juicing and nutrition. Individual fruits and vegetables are discussed in detail, so that you'll know which ones are best for you and how to handle them. There are 70 juice recipes included or you can use the information in the book to come up with your own special blends.
There are also specifics for those of you concerned with weight-loss, immune function, cancer or other medical conditions.
This is an excellent book to refer back to as necessary. When you have knowledge, it's easier to make good decisions about your health.
The Complete Book of Juicing

Revised and Updated:
Your Delicious Guide to Youthful Vitality
by Michael Murray
isbn 978-0385345712
Pub. date 12/31/13
Description: "Based on the most recent and reputable scientific studies, the book includes comprehensive information on the nutritional benefits of various fruits and vegetables, the healing powers of raw juice, and answers to common questions and misconceptions about juicing and raw foods. For those who are just getting started on a self-care routine using raw juice, Dr. Murray includes a chapter covering the various types of juicers, how they differ, and the pros and cons with each method and model."
Enter daily through the Rafflecopter form below: