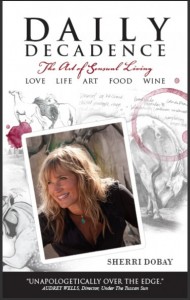 Daily Decadence
The Art of Sensual Living
by Sherri Dobay
isbn 978-0984045709
Pub. date 2012
Description: Daily Decadence takes readers on a sexy adventure full of romantic escapes, simple yet sumptuous meals, creative encounters, horse tales, moonlit escapades, and enchanted revelations–all paired with Sherri Dobay's sassy wine picks and evocative tasting notes. Designed to inspire, created with love, Daily Decadence will remind readers to stop for a moment and focus one's awareness softly, opening the senses in all directions to take in one's own dazzling world, renewed and enlivened.
What fun! This book is definitely unique and doesn't fit neatly into an existing genre.
Daily Decadence feels like a diary. Instead of being a diary of a a tween, teen or distraught housewife, this is the diary of a woman who is full of life. She celebrates pleasurable moments and treasures each day. Her joy is infectious.
The book jumps from topic to topic – food, wine, art, love … You can read it straight through or you can turn to it when you need some positive inspiration.
There are lots of good recipes in the book – "everyday indulgences" as she calls them. You may want to try out some of the foods, wines and other ideas that she shares in the book. Or you can look at the bigger picture and learn to take the time to indulge and appreciate the wonderful things in your own life.