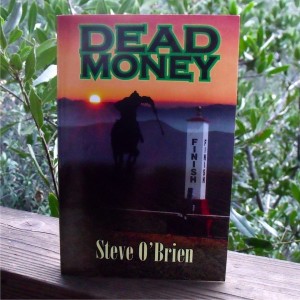 Dead Money
by Steve O'Brien
isbn 978-0988184305
Pub. date 1/10/13
"You Can't Stop It.
The stranger's menacing, dismissive laughter echoed in attorney Dan Morgan's head. In the heart of thoroughbred country–Churchill Downs–a major con was about to be pulled. Despite Dan's efforts, his filly, Aly Dancer, was somehow part of the scheme.
You Can't Stop It.
Dan's dream as a thoroughbred owner was to run in a Grade I race—a televised stakes race. That opportunity had finally appeared. So far it had only resulted in threats, violence and death.
You Can't Stop It.
What was the scam? Who was involved? Who could he turn to?
Post time was nearing.
The man's sinister voice would not leave him."
Dead Money is the 3rd book that I've read by this author. I love a good mystery that makes me think and each one of these has been entertaining.
Steve O'Brien has a law degree and used to own a thoroughbred horse. He has enough personal knowledge on these subjects to craft a very realistic mystery. The basics are believable and the fictional story is imaginative.
I'm not at all familiar with horse racing, but was able to easily understand the workings of the industry as this mystery unfolded.
The book is a quick read. The writer's style is very conversational, so it felt as if I was a part of the story listening and watching it all take place.
Dead Money is an enjoyable book!
Enter daily through the Rafflecopter form below: