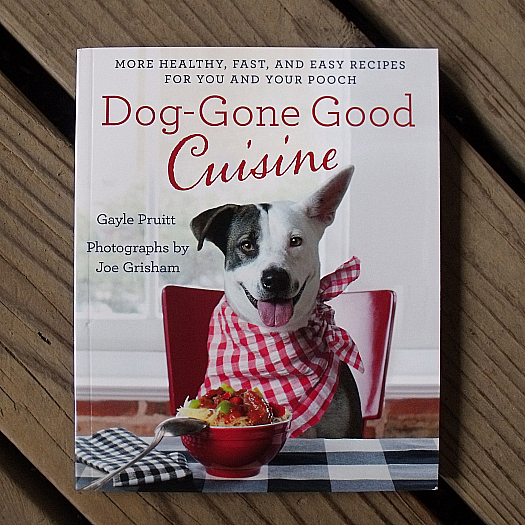 Yes, these recipes are 'Dog-Gone Good." The cookbook contains recipes for food that can be eaten by people and dogs!
Before you get worried, no one expects people to want to eat a bowl full of kibble or some strange mystery mush from a can. This is good food that people will be happy to eat and it can also be safely fed to our four legged family members.
Some of you may just want to share your leftovers with your dog. Others may want to prepare and entire meal that you and your fur baby can enjoy together. She's also included some recipes that are for your pup only.
A good, home-cooked meal is a better choice for people than packaged, processed food that contains fillers and artificial ingredients. The same is true for dogs. Nutritious meals can help people and dogs live a healthy, long life.
The cookbook contains recipes with clear instructions that novice cooks can follow along with photographs of tasty looking food and adorable rescue dogs.
Dog-Gone Good Cuisine

More Healthy, Fast, and Easy Recipes for You and Your Pooch
by Gayle Pruitt
isbn 978-1250037138
Pub. date 2/18/14
Synopsis: "Dog-Gone Good Cuisine is a fun, healthy recipe book for humans and their canine kids. While there are other, successful doggie cookbooks in the marketplace, Pruitt's second offering is unique in that the dishes are intended to be enjoyed by chef and pup together. It includes more than 100 balanced, delicious recipes that are corn, sugar, soy, and gluten free and is sprinkled with gorgeous, full color images of absolutely adorable rescue dogs."
Here are a few of the recipes that are included:
Omelet with Spinach and Goat Cheese

Classic Chicken Soup
Mediterranean Meatballs
Old Time Turkey a la King
Salmon Florentine
Enter daily through the Rafflecopter form below: