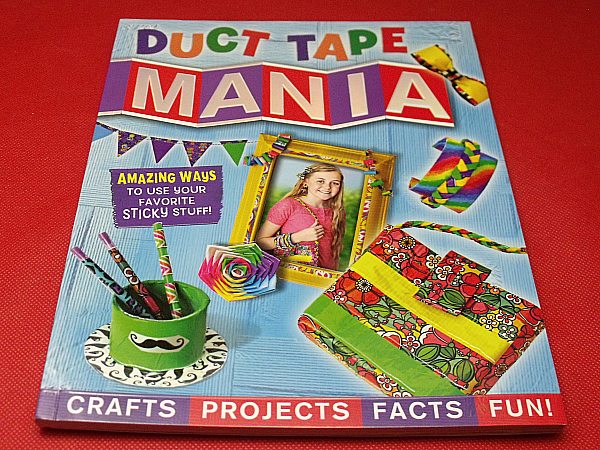 Do you have crafty kids? Or do you like to get your craft on?
Duct Tape Mania will help inspire you to create fun projects with this sticky and colorful tape that is no longer just meant to be stored in a tool box for home repair emergencies.
The book is written by craft blogger, Amanda Formaro, who is a mom of four kids. She is passionate about crafts and clearly knows what kids like.
The crafty art projects are recommended for kids ages 6 to 10. Younger kids will enjoy it, too, but will need help from an adult or older child. Of course, teens and adults can also have fun with duct tape.
Here are a few of the 40+projects that are included in the book:
Bracelets

Purse
Pencil Case
Picture Frames
Jump Rope
Each project has step by step written instructions along with photos to illustrate the techniques and show off the finished items. You can follow along exactly, if you'd like, but the fun thing about duct tape is that it's versatile and can be customized to suit your taste. The crafts in the book are a great way to get hooked on creating with the oh-so-amazing duct tape.
Duct Tape Mania

by Amanda Formaro
isbn 978-0794432157
Pub. date 8/26/14
Synopsis: "Ready…Set…Create! Whether you are already stuck on duct tape or just eager for fun creative projects, this book is for you! Filled with cool crafts, awesome games, surprising activities, and fascinating facts, Duct Tape Mania will make a duct tape maniac out of you!"
Enter daily through the Rafflecopter form below: