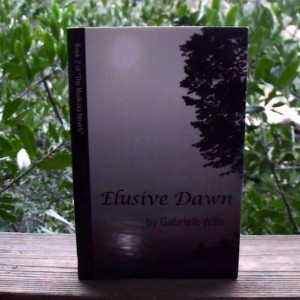 Elusive Dawn
by Gabriele Wills
isbn 978-0973278033
Pub. date 1/28/08
Description: "It's late summer, 1916. While some members of the Wyndham family revel in the last resplendent days of the season at their Muskoka cottage, others continue to be drawn inexorably into the "Great War", going from a world of misty sunrises across a tranquil lake to deadly moonlight bombing raids, festering trenches, and visceral terror. For Ria, too many things have happened to hope that life would ever return to normal, that innocence could be regained. Caught in the vortex of turbulent events and emotions, she abandons the relative safety of the sidelines in Britain for the nightmare of France. Her fate as an ambulance driver remains entwined with that of her summer friends, all bound by a sense of duty. Living in the shadows of fear and danger awakens the urgency to grasp life, to live more immediately, more passionately amid the enormity of unprecedented death. Together, their lives weave a tale of liberation and loss, evolution and redemption. Those who survive this cataclysmic time are forever changed, like Canada itself."
I love fictional novels that bring history to life in a personal way. Yes, the novel is fictional, but it helps the reader understand how history shapes the lives of individuals. The author's descriptive writing style paints a vivid picture of the characters, their surroundings and the events of the day.
Elusive Dawn is the 2nd novel in the Muskoka series.  The Summer Before The Storm was the first. The books can be read individually, but there's a good chance you'll want to read the whole series.
The novels are full of contrast. You'll travel from a comfortable and privileged life in the beautiful Canadian wilderness to the harsh realities of Europe during World War I. Both places can change who the characters are and where they are headed.
Gabriele Wills is a skilled author who expertly weaves this family saga together. I'm looking forward to book 3!
Enter daily through the Rafflecopter form below: