"This post is sponsored by Savings.com."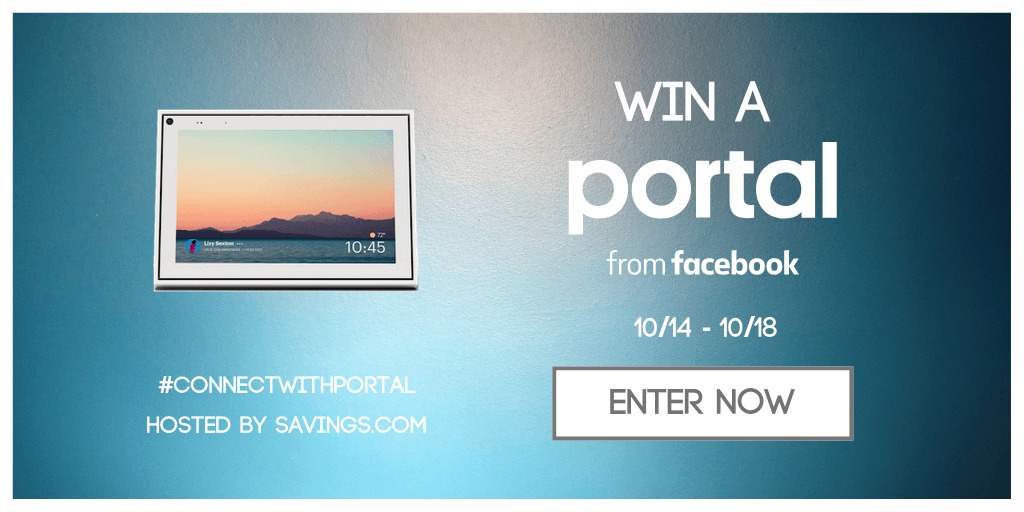 Win a Portal from Facebook
Check out this amazing giveaway, so that you can enter for a chance to win a Portal from Facebook.
It is brand new and will change the way we can communicate with family and friends.
All of the Portal products come with Alexa built in and you can make video calls with both Messenger and WhatsApp.
The picture and sound quality look amazing, so this will definitely be a step up from using my smartphone.
I'm especially excited about Portal's Smart Camera that automatically adjusts to keep up with the action, when we're moving around the room.
You can choose from Portal Mini, Portal, Portal+ and Portal TV, which allows video calling through your TV.
The "regular" Portal with the 10″ screen sounds perfect for me, but I also think Portal TV would be fun.
Either way, it would make connecting with loved ones via video extra fun.
The entry form is really easy, so it only takes a moment to enter. Just input your email address and click to submit.
Good luck!
#ConnectWithPortal
Prizes:
10″ Portal from Facebook – arv $179
3 Winners
Ends October 18th, 2019
Click HERE for the oh so easy entry form and official rules.
Check out these other sweepstakes., so you can have more chances to win prizes.