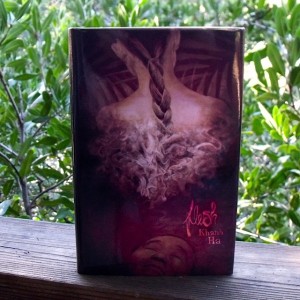 Flesh
by Khanh Ha
isbn 978-0930773885
Pub. date 6/15/12
Description: "Set in Tonkin (now northern Vietnam) at the turn of the 20th century, Flesh tells the story of a boy who witnesses the execution, by beheading, of his father, a notorious bandit, and sets out to recover his father's head, and then find the man who betrayed his father to the authorities. A coming-of-age story of brutal self-awakening and also a tender love story, Flesh takes the reader into places, both dark and wonderful, in the human condition where allies are not always your friends, true love hurts, and your worst enemy can bring you the most solace."
I thoroughly enjoy historical fiction – especially when it gives me a glimpse into an era or time period that I don't know much about. Vietnam at the turn of the 20th Century was not something that was studied in depth in American public schools. I know some basics from other books and movies, but really not very much.
Khanh Ha brings this time period to life in this vivid  historical saga. Life was definitely not easy. The setting and whole way of thinking and living is different than today.
The whole premise of the book didn't fit with my modern way of thinking – a child watching his father get beheaded and then attempting to recover the head? This isn't exactly what I'd expect to happen in 2013 – none of it.
The author skillfully tells the story so that it all makes sense in context. I can now understand more of what it would have been like to live in this time period. The saga is a beautiful combination of history, adventure and personal drama.
CONNECT – You can follow Khanh Ha on Twitter.
Enter daily through the Rafflecopter form below: