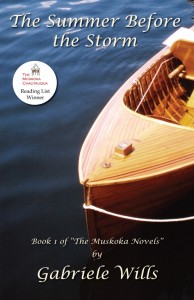 The Summer Before The Storm
by Gabriele Wills
isbn 978-0973278026
Pub. date 10/19/06
Description: It's the Age of Elegance in the summer playground of the affluent and powerful. Amid the pristine, island-dotted lakes and pine-scented forests of the Canadian wilderness, the young and carefree amuse themselves with glittering balls and friendly competitions. The summer of 1914 promises to be different when the ambitious and destitute son of a disowned heir joins his wealthy family at their cottage on Wyndwood Island. Through Jack's introduction into the privileged life of the aristocratic Wyndhams and their illustrious social circle, he seeks opportunities and alliances to better himself, including in his schemes, his beautiful and audacious cousin, Victoria.
This is a wonderful saga that quickly drew me in. The characters are interesting and the setting is beautiful. It's nice to be able to escape to a different place and time where I can get involved in the schemes and drama of others without actually being involved.
The author's writing style is very descriptive. I felt as if I really got to know the characters and the beautiful place where they live. I'm not so sure I'd like to go back to 1914, but I would like to vacation in a cottage in the Canadian wilderness.