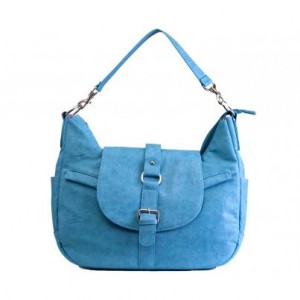 These bags are really cute and they're extra special. They aren't just handbags. They're camera bags. Yes, camera bags look this stylish!
I'm not a professional photographer like Kelly is, but I carry my camera with me just about wherever I go. I have a "regular" camera bag that I still haven't removed the tag from. It looks too much like luggage, so I really don't want to carry it around. My regular purse doesn't give my camera the kind of protection it needs. It's awkward to put my camera into a padded case and then into my purse. When I saw Kelly Moore's bags, I knew this was the solution. People who know me will assume I have a camera in my bag since I always do. Others will just think I have a really nice looking purse.
There are several different styles available depending on your needs and preferences. She's posted videos of each bag on her site so that you can choose what will work best for you. When I first saw the bags, I thought the B-Hobo would be the one for me and was just trying to figure out which color I liked best.
Then I watched the videos. Once I saw the bags in action, I knew that the Posey would be just perfect for me. It's the smallest of the bags and is named after her daughter.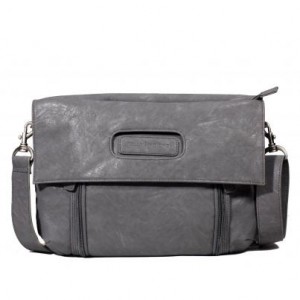 I have a mid-sized camera – bigger than the small flat ones, but not a huge professional camera. The interior compartments can be adjusted to keep my camera snuggly cushioned and easily accessible. There is room for a spare lens, my mini-tripod and other items when I need them. I usually don't carry extras with me on a daily basis, so that leaves me plenty of room for other 'regular' purse stuff.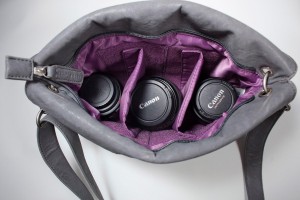 The outer compartment is fantastic. There are credit card slots, flash card pockets and space for cash. I don't even need to carry a wallet with this bag. It can be carried as a clutch with the flap down, a tote with the flap up or as a shoulder or cross body bag with the removable strap.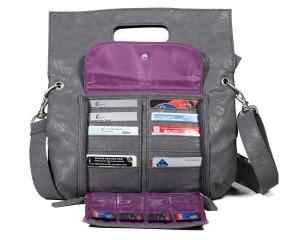 If you're a professional photographer or just someone who carries extra lenses, one of the other bags may be a better choice for you. The Posey is absolutely perfect for me to use everyday. It looks great and I love knowing that my camera is protected and easy to access.
Kelly Moore bags are great for professional and personal use. They're stylish and functional for using everyday , at special events or when you're traveling.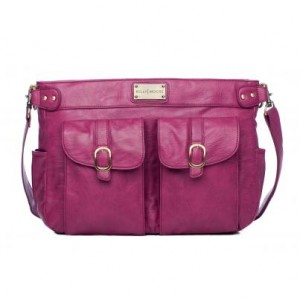 HOW TO CONNECT – You can join the Kelly Moore Facebook group and follow her on Twitter.
PRIZE – Kelly Moore would like to give a bag to 1 of you – choice of Posey, B-Hobo or Classic (ARV $159-$199)
***MANDATORY ENTRY: Leave a comment – just say something nice!  ***
Extra Credit Entries: (must do mandatory entry first- post a separate comment for each optional extra credit entry)
* Like Sweeps4Bloggers on Facebook
* Subscribe to Sweeps4Bloggers by email (green sidebar button)
* Subscribe to Sweeps4Bloggers by reader (Orange sidebar button)
* Post my button on your blog and comment with the link
* Follow Sweeps4Bloggers on Twitter
* Tweet about the giveaway and comment with the link to your tweet (you may TWEET DAILY for 1 bonus entry each day)
* Post on your blog/website about the giveaway and comment with the link (5 entries, leave 5 comments)
* Check out Giveaways4Prizes– add one of your giveaways to a linky or look at what's listed (2 entries, leave 2 comments)
* Follow Kelly Moore on Twitter (2 entries, leave 2 comments)
* Enter the Packin' SMART giveaway (ends 5/16)
* Enter another current Sweeps4Bloggers giveaway and let me know which one you entered (enter as many as you'd like, but only 1 bonus entry)
Giveaway ends May 7, 2011 at 8pm Pacific Time. Giveaway is open for residents of the US & Canada only. No purchase necessary – void where prohibited by law. Winner will have 48 hours to respond to email notification with shipping info and claim prize – if no response, another winner will be chosen . Subject to the official rules. Disclaimer/Disclosure: Sample and prize provided by sponsor.