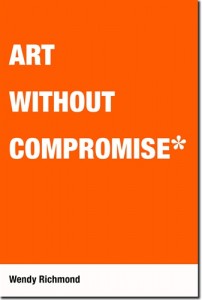 Art Without Compromise
by Wendy Richmond
isbn 978-1-58115-666-9
Pub. date 10/20/09
Description: Art Without Compromise* will inspire artists to change the way they think about their creative landscapes, from personal goals to cultural influences to technological realities. Author Wendy Richmond helps artists to look closely at what they see every day, both in their own art-making and in the world around them. Readers will learn to develop an uncompromising commitment to finding and protecting their own unique process for making their strongest art.
This book is inspirational for artists of all kinds – professionals and those of you with creative hobbies. The book applies to painters, sculptors, photographers, performance artists …. any creative art form.
The author reminds us that truly meaningful art can be created when the focus is on the journey and not the destination. That's the way I like to look at life in general and it's specifically applicable to art.
Wendy Richmond can help you look at art and the world around you in a whole new way. There is no absolute right and wrong with art. By using her techniques to look at the world creatively, you can be inspired to try new things and really put your heart into your work.
HOW TO CONNECT – You can like Allworth Press on Facebook and follow them on Twitter.
PRIZE – Allworth Press would like to give and autographed copy of Art Without Compromise to **2** of you (ARV $25)
***MANDATORY ENTRY: Leave a comment – just say something nice!  ***
Extra Credit Entries: (must do mandatory entry first- post a separate comment for each optional extra credit entry)
* Like Sweeps4Bloggers on Facebook
* Subscribe to Sweeps4Bloggers by email (green sidebar button)
* Subscribe to Sweeps4Bloggers by reader (Orange sidebar button)
* Post my button on your blog and comment with the link
* Follow Sweeps4Bloggers on Twitter
* Tweet about the giveaway and comment with the link to your tweet (you may TWEET DAILY for 1 bonus entry each day)
* Post on your blog/website about the giveaway and comment with the link (5 entries, leave 5 comments)
* Check out Giveaways4Prizes– add one of your giveaways to a linky or look at what's listed (2 entries, leave 2 comments)
* Follow Allworth Press on Twitter
* Like Allworth Press on Facebook
* Enter the Keys to the Kingdom giveaway (ends 7/9)
* Enter another current Sweeps4Bloggers giveaway and let me know which one you entered (enter as many as you'd like, but only 1 bonus entry)
Giveaway ends July 10, 2011 at 8pm Pacific Time. Giveaway is open for residents of the US & Canada only. No purchase necessary – void where prohibited by law. Winner will have 48 hours to respond to email notification with shipping info and claim prize – if no response, another winner will be chosen . Subject to the official rules. Disclaimer/Disclosure: Sample and prize provided by sponsor.