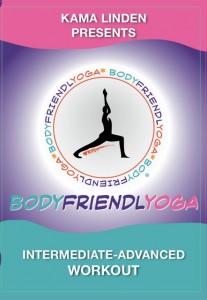 Body Friendly Yoga
… an intense workout without injury.
Intermediate-Advanced Workout
Presented by Kama Linden
About: As a personal trainer, dancer, singer-songwriter, and anatomy enthusiast, I always have taken apart the puzzle only to find a new and hopefully better way of putting it back together. Almost like going from the rigidity of ballet that could only be achieved by some, to the strength and sensible techniques of Martha Graham, and lyrical or modern-based jazz dance, (Many of her dancers stayed in the company well past 50) I kind of had the same vision for YOGA….work with the joints and range of motion you have, and improve from there, rather than forcing your joints and hoping to look like an ideal!
Kama Linden has been in the fitness industry for over 12 years and has certifications and specialized training in yoga, pilates and more. I really appreciate her ideas about working with the body instead of trying to make the body do things it shouldn't be doing.
The Body Friendly dvd is meant to be an intermediate-advanced workout. And I am definitely not in that category. But there are some helpful beginner's tips included and she teaches in a very clear and straight forward way that I was able to understand and follow.  It's easy to see the poses against the solid background.
And … since I'm able to use the dvd in the privacy of my own home, I can follow along and do what I am able to do in a way that works for my body without being concerned about what others will think of my beginner level skills.
Body Friendly Yoga can be used as a warm up to other exercise or by itself.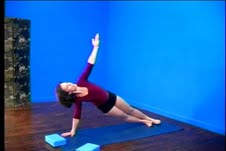 WHERE TO BUY – Body Friendly Yoga is available online – they accept PayPal.
PRIZE ALERT – Kama Linden would like to give the Body Friendly Yoga dvd to 1 of you (ARV $10)
Here's what ya gotta do to enter to win ….
***MAIN ENTRY: For your main entry, comment with something you learned about Body Friendly Yoga***
Extra Credit Entries: (must do main entry first- post a separate comment for each extra credit entry)
* Fan the NEW Sweeps4Bloggers Facebook Page
* Subscribe to Sweeps4Bloggers (Orange sidebar button for RSS and/or green button for email)
* Post my button on your blog and comment with the link
* Follow Me on Twitter
* Tweet about the giveaway and comment with the link to your tweet (you may TWEET DAILY for 1 bonus entry each day)
* Post on your blog/website about the giveaway and comment with the link (5 entries)
* Enter my Skoy Cleaning Cloths giveaway
* Enter another one of my giveaways and let me know which one you entered (enter as many as you'd like, but only 1 bonus entry)
Giveaway ends on March 23, 2010 at 8pm Pacific Time. Giveaway is open for US residents only. Winner will have 48 hours to respond to notification with shipping info and claim prize – if no response, another winner will be chosen . Subject to the official rules. No purchase necessary – void where prohibited by law. Disclaimer/Disclosure: Review product was provided to me.