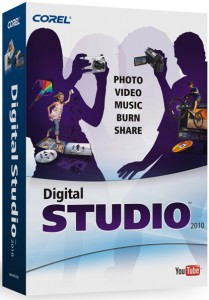 Corel
Digital Studio 2010
Windows 7, Windows XP or Windows Vista
About: It's your story to tell, so make it unforgettable with Corel Digital Studio 2010. Taking a revolutionary approach to photo editing and movie making software, this new multimedia software gives you all the applications you need in one box. And they all work together. Organize all your digital media in one place, effortlessly edit photos, burn music and turn your video clips into movies in just minutes. Got the latest technologies? Digital Studio also supports HD video and Windows® 7. The best part is sharing your memories with the people you care about—on popular websites like Facebook™, Flickr and YouTube™, on professional-quality CDs, DVDs or high-definition AVCHDs, and on your favorite mobile device, including iPod®, iPhone® and PSP®.
Before I agreed to review this, I checked with my teenagers to make sure they'd be interested in it. They are the ones who use a PC and like to play around with pictures, videos and music. And I didn't want to get more software that wouldn't really be useful for us.  After checking it out online, the answer was an absolute "Yes Yes Yes. We need this!" And now that we have it, they still agree that "Yes Yes Yes. We need this!"
Chances are, you have an assortment of programs that you're using for your media – for pictures, videos, music… The Digital Studio does it all!
Organize – capture digital media from cameras, phones…. and store it in one organized place
Edit – fast and easy one-click editing for photos and videos
Create – make photo books, cards, calendars, slide shows… and quickly make movies using your pictures, video and music
Share – upload to Facebook or You Tube, make digital copies, print your own copies or order hardcopies.
As expected from Corel, the Digital Studio is very user friendly! Even a newbie can have fun with the program immediately, and the possibilities for advanced work are amazing. The program has lots of extras that will keep even more advanced users entertained.
The organizational tools are great for my guys and the editing is very fun and much easier than some of the other programs we've used. It is so much easier to learn one program and to keep it all of their media organized in one place.
HOW TO CONNECT – You can fan Corel Digital Studio on Facebook and follow them on Twitter.
DEAL ALERT – Digital Studio 2010 has a list price of $99.99, but is currently available for just $59.99 directly from Corel.
PRIZE ALERT – Corel would like to give Corel Digital Studio 2010 to ***2*** of you (ARV $99.99)
Here's what ya gotta do to enter to win ….
***MAIN ENTRY : For your main entry, comment with something you learned about Corel Digital Studio ***
Extra Credit Entries: (must do main entry first- post a separate comment for each extra credit entry)
* Fan the NEW Sweeps4Bloggers Facebook Page
* Subscribe to Sweeps4Bloggers (Orange sidebar button for RSS and/or green button for email)
* Post my button on your blog and comment with the link
* Follow Me on Twitter
* Tweet about the giveaway and comment with the link to your tweet (you may TWEET DAILY for 1 bonus entry each day)
* Post on your blog/website  about the giveaway and comment with the link (5 entries)
* Fan Corel Digital Studio on Facebook
* Follow Corel Digital Studio on Twitter
* Enter another one of my giveaways and let me know which one you entered (enter as many as you'd like, but only 1 bonus entry)
Giveaway ends on March 17, 2010 at 8pm Pacific Time. Giveaway is open for US  & Canadian residents only. Winner will have 48 hours to respond to notification with shipping info – if no response, another winner will be chosen . Subject to the official rules. No purchase necessary – void where prohibited by law. Disclaimer/Disclosure: Review product was provided to me.