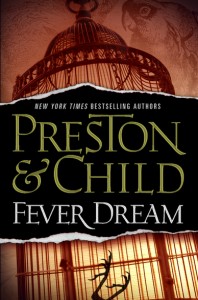 Fever Dream
by Douglas Preston
and Lincoln Child
isbn 978-0446554961
Pub. date 5/11/10
Publisher's description: At the old family manse in Louisiana, Special Agent Pendergast is putting to rest long-ignored possessions reminiscent of his wife Helen's tragic death, only to make a stunning-and dreadful-discovery. Helen had been mauled by an unusually large and vicious lion while they were big game hunting in Africa. But now, Pendergast learns that her rifle-her only protection from the beast-had been deliberately loaded with blanks. Who could have wanted Helen dead…and why?
With Lieutenant Vincent D'Agosta's assistance, Pendergast embarks on a quest to uncover the mystery of his wife's murder. It is a journey that sends him deep into her past where he learns much that Helen herself had wished to keep hidden. Helen Pendergast had nursed a secret obsession with the famed naturalist-painter John James Audubon, in particular a long-lost painting of his known as the Black Frame.
As Pendergast probes more deeply into the riddle-the answer to which is revealed in a night of shocking violence, deep in the Louisiana bayou-he finds himself faced with an even greater question: who was the woman he married?
My son is a HUGE Preston & Child fan and was thrilled to volunteer to help me with this review  when he heard that a new Pendergast novel was being published. He devoured the book… stayed up late to read, refused to put it down to play video games or to snack….
So I asked him what I should say about Fever Dream.
"Amazing"
I then asked him if there was anything I should add to that one word description.
"Mom, it's Preston & Child. Of course, it's amazing. It's everything I would expect from them. I was not disappointed. It IS amazing."
So, there you have it… the official opinion of a teenager who is an avid reader and fan of the Preston & Child writing team.
HOW TO CONNECT – You can follow Grand Central Publishing on Twitter and subscribe to the authors' newsletter.
WHERE TO BUY – Fever Dream is available at a discount on Amazon.
PRIZE ALERT – Hachette Book Group would like to give Fever Dream to ***5*** of you (ARV $26.99)
Here's what ya gotta do to enter to win ….
***MAIN ENTRY: For your main entry, leave a comment about the book or authors**
Extra Credit Entries: (must do main entry first- post a separate comment for each extra credit entry)
* Fan/Like  Sweeps4Bloggers on Facebook
* Subscribe to Sweeps4Bloggers (Orange sidebar button for RSS and/or green button for email)
* Post my button on your blog and comment with the link
* Follow Me on Twitter
* Tweet about the giveaway and comment with the link to your tweet (you may TWEET DAILY for 1 bonus entry each day)
* Follow Grand Central Publishing on Twitter
* Subscribe to the Preston & Child newsletter
* Post on your blog/website about the giveaway and comment with the link (5 entries)
* Enter my Loving Pets Bella Bowls giveaway (ends 5/13)
* Enter another one of my giveaways and let me know which one you entered (enter as many as you'd like, but only 1 bonus entry)
Giveaway ends on May 14, 2010 at 8pm Pacific Time. Giveaway is open for residents of the US & Canada only. Winner will have 48 hours to respond to notification with shipping info and claim prize – if no response, another winner will be chosen . Subject to the official rules. No purchase necessary – void where prohibited by law. Disclaimer/Disclosure: Review product and prize provided by the giveaway sponsor. No monetary compensation received.