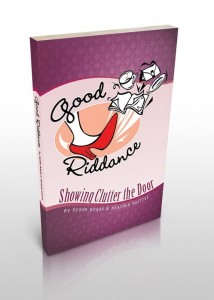 Good Riddance
Showing Clutter the Door
By Susan Borax
and Heather Knittel
isbn 9780986717703
Description: Good Riddance Showing Clutter the Door answers the question: Is it possible to lose 25 years of clutter with utter glee?  It is when you surrender your CRUD (completely ridiculous unworthy debris), according to know-it-all professional organizers, Heather Knittel and Susan Borax. Short of an actual intervention, their book Good Riddance  Showing Clutter the Dooridentifies the top 100 house-cluttering culprits most deserving of eviction, and how to send them packing. Susan and Heather skewer the useless infestation of belongings that everyone inexplicably keeps. Instead of cringing, the reader will be laughing her way to clutter reduction in less time than it would take to alphabetize her compact discs, spend her tax refund or get her husband to replace a leaky showerhead.
I never used to have a problem with clutter. I didn't let things accumulate and I kept what I had organized and tidy. Then I had kids. Then I got a job that involved lots of "stuff" and paperwork.  Things have definitely piled up over the years.
This humorous and lighthearted book will help you get rid of the clutter and create a space that is more comfortable and functions better.
The authors have seen it all. Some things are worth keeping, but we've all got things that we just don't need. It doesn't make sense to keep things that are not needed. Some of our clutter can actually be put to good use by others who need it. And some of our clutter belongs in the trash or recycle bin.
There are chapters to help you with specific pile ups in every room of the house. The book gives practical tips that will help you make good decisions about what stays and what goes. You'll laugh at scenarios in the book and you'll probably laugh at yourself as you unearth forgotten items in your own cluttered home.
HOW TO CONNECT – You can like the authors on Facebook and follow them on Twitter.
PRIZE – Good Riddance – 3 Winners – ARV $15
Here's how to enter to win ….
***MANDATORY ENTRY: Leave a comment – just say something nice! ***
Optional Bonus Entries: (must do main entry first – post a separate comment for each bonus entry)
* Like Sweeps4Bloggers on Facebook
* Subscribe to Sweeps4Bloggers by email (green sidebar button)
* Subscribe to Sweeps4Bloggers by reader (Orange sidebar button)
* Post my button on your blog and comment with the link
* Follow Sweeps4Bloggers on Twitter
* Tweet about the giveaway and comment with the link to your tweet (you may TWEET DAILY for 1 bonus entry each day)
* Post on your blog/website about the giveaway and comment with the link (5 entries)
* Check out  Giveaways4Prizes today – either add one of your giveaways to a linky or look at a giveaway that's listed (2 entries, leave 2 comments)
* Like the authors on Facebook
* Follow the authors on Twitter
* Enter the Woodrose Mountain giveaway (ends 3/27)
* Enter another current Sweeps4Bloggers giveaway and let me know which one you entered (enter as many as you'd like, but only 1 bonus entry)
Giveaway ends March 29, 2012 at 8pm Pacific Time. Giveaway is open for residents of the US and Canada only. Winner will have 48 hours to respond to notification with shipping info and claim prize – if no response, another winner will be chosen . Subject to the official rules. No purchase necessary – void where prohibited by law. Disclaimer/Disclosure: Review sample and prize provided by the giveaway sponsor.