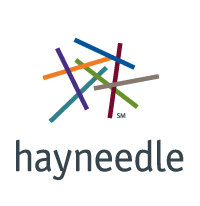 Hayneedle
Variety. Sweet Variety.
About: From hammocks to dart boards, dog houses to globes, our ever-expanding variety of online stores offers products for every part of your home – living room, bedroom, bath, kitchen, office, patio, garden, garage, and more. They're grouped in categories that make sense – patio & garden, furniture, home accessories, baby & kids, pets & animals, sports & games, seasonal & gifts. In fact, it all makes sense at Hayneedle – from easy navigation to one-cart checkout.
Each Hayneedle store focuses on one specific product type, allowing us to offer true variety. According to consumer research, discerning customers seek an array of products to complete a theme or specific area in their home. Our universal cart allows customers to shop our 220 specialty stores using one shopping cart. Combine this with our proprietary concierge bar, which presents related stores and products, and creating ideal living spaces has never been easier.
Many of you are already familiar with Hayneedle. This was my first experience with them and I am impressed!
Hayneedle is a big huge online shopping mall. I can shop any time of the day or night from the comfort of my own home – no crowds, no tired feet, no hassle finding a parking space… Yes, I'm a big fan of shopping in my pajamas ;)
Hayneedle is organized into 200+ stores with individual sites. Each store carries a distinct line of merchandise, but they are all tied together with the main Hayneedle site and you can checkout from any assortment of stores with one shopping cart.
They carry just about everything I could think of – patio and garden, furniture, home accessories, baby and kids, pets and animals, sports and games, seasonal and gifts. The quality and assortment are excellent. And they make it easy to see the discount you are getting. They post the MSRP, their price and the savings percentage.
Of course, I had a hard time making a decision on what to get. So… I asked the teenagers to help. We started out with a bunch of possibilities and finally made a choice.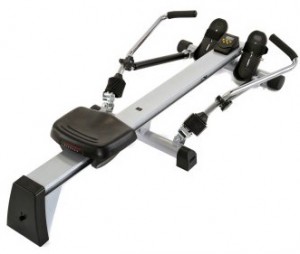 The Crescendo Fitness Power Rowing Power Rower came from their Fitness Equipment Express store.  We love it!
It's a full size machine (almost 5 feet long), but it's portable. I can rest it up against a wall to keep it out of the way when it's not in use and then move it to where I want to use it. We can get a comfortable full body workout. It has a computerized monitor to track our workouts and can be easily adjusted and used by different sized people.
The rower arrived in a large heavy box. I knew when to expect it thanks to the tracking information they provided (love it when companies do that!). I am not at all mechanically gifted – by choice ;) Fortunately, my kids love this sort of thing. I didn't even have to ask them to help. My son carried the box into the house and immediately started putting it together with the included instructions.
Now we have a convenient way to exercise anytime. We can use it for a big, planned workout. Or we can get a little exercise when the mood strikes.
Hayneedle has a great selection. The shopping experience was easy. Shipping was quick and on schedule.
HOW TO CONNECT – You can like Hayneedle on Facebook, follow them on Twitter and subscribe to their newsletter.
PRIZE ALERT – Hayneedle would like to give a $50 Gift Certificate to 1 of you.
Here's what ya gotta do to enter to win ….
***MANDATORY ENTRY: For your main entry, comment about something you would like to buy from Hayneedle***
Extra Credit Entries: (must do mandatory entry first- post a separate comment for each optional extra credit entry)
* Like  Sweeps4Bloggers on Facebook
* Subscribe to Sweeps4Bloggers by email (green sidebar button)
* Subscribe to Sweeps4Bloggers by reader (Orange sidebar button)
* Post my button on your blog and comment with the link
* Follow Sweeps4Bloggers on Twitter
* Tweet about the giveaway and comment with the link to your tweet (you may TWEET DAILY for 1 bonus entry each day)
* Post on your blog/website about the giveaway and comment with the link (5 entries, leave 5 comments)
* Check out  Giveaways4Prizes today – either add one of your giveaways to a linky or check out one of the giveaways that's listed (2 entries, leave 2 comments telling me what you did)
* Like Hayneedle on Facebook
* Follow Hayneedle on Twitter
* Subscribe to the Hayneedle newsletter
* Enter the LifeVerse Bracelet giveaway (ends 10/30)
* Enter another current Sweeps4Bloggers giveaway and let me know which one you entered (enter as many as you'd like, but only 1 bonus entry)
Giveaway ends October 31, 2010 at 8pm Pacific Time. Giveaway is open for residents of the US only. No purchase necessary – void where prohibited by law. Winner will have 48 hours to respond to notification with shipping info and claim prize – if no response, another winner will be chosen . Subject to the official rules. Disclaimer/Disclosure: Sample and prize provided by the giveaway sponsor.