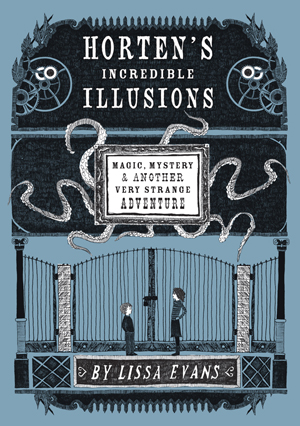 Horten's Incredible Illusions:
Magic, Mystery & Another Very Strange Adventure
by Lissa Evans
isbn 978-1402798702
Pub. date 9/4/12
Description: "This magical follow-up to Horten's Miraculous Mechanisms continues Stuart's amazing adventures–with more enchantment, more surprises, and more thrills. When we last left 10-year-old Stuart, he had just recovered his great-uncle Tony's long-lost magic workshop. Now all the priceless tricks are on display in the Beeton Museum–and Stuart is junior curator of the exhibit! But another mystery awaits Stuart: Where did the great magician hide his will? Only by entering the magic world of the workshop can he find the answer. But as the mechanisms whisk him off on increasingly incredible adventures, the puzzles become harder and harder to solve…and the stakes higher. With even more page-turning action, this second book in the exciting middle-grade series does a magic trick of its own: it's even better than the first!"
Horten's Incredible Illusions is great fun for kids. OK…. I'll admit it. I enjoyed it, too, even though the book is recommended for the 8 to 12 year old crowd.
When I was in elementary school, I loved reading mysteries – Harriet the Spy, Hardy Boys, Encyclopedia Brown … I always enjoyed the adventures and thought it was fun to try to figure out the mystery. My kids enjoyed the Series of Unfortunate Events books for the same reasons.
The hardcover chapter book is over 350 pages long, but is still very appropriate for kids. This is the kind of book that just may encourage a non-reader to realize that reading can be fun.
This is the second Horten book by Lissa Evans. I'm hoping that she has more in the works.
CONNECT – You can follow Sterling Books on Twitter.
Enter daily through the Rafflecopter form below: