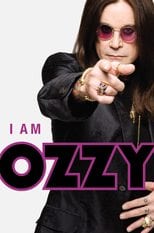 I Am Ozzy
by Ozzy Osbourne
and Chris Ayers
isbn 9780446569897
Pub. Date 1/25/10
Publisher's description: People ask me how come I'm still alive, and I don't know what to say. When I was growing up, if you'd have put me up against a wall with the other kids from my street and asked me which one of us was gonna make it to the age of sixty, which one of us would end up with five kids and four grandkids and houses in Buckinghamshire and Beverly Hills, I wouldn't have put money on me, no f**king way. But here I am: ready to tell my story, in my own words, for the first time.
A lot of it ain't gonna be pretty. I've done some bad things in my time. I've always been drawn to the dark side, me. But I ain't the devil. I'm just John Osbourne: a working-class kid from Aston, who quit his job in the factory and went looking for a good time."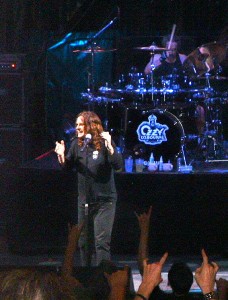 Happy Happy! It's another Ozzy giveaway!  And here's a picture I took of a very happy Ozzy having fun with the crowd during OzzFest 2007! The man is a fantastic performer!
Usually I end up listening to audio books after I've read the book, but with I am Ozzy, I did the audio first. I really enjoyed the abridged audio, but it really just whet my appetite for the whole book. There's a lot of additional material included along with a bunch of photos.
He's had a life full of adventure – good and bad. And through it all, he continues to love his wife and family and maintain a sense of humor!
As expected there are F-Bombs and 'adult' situations throughout. So… use your own discretion.
HOW TO CONNECT – You can fan Ozzy on Facebook.
WHERE TO BUY – I Am Ozzy is available at a discount on Amazon.
PRIZE ALERT – Hachette Book Group would like to give the I Am Ozzy hardcover book to ***5*** of you (ARV $26.99)
Here's what ya gotta do to enter to win ….
***Main Entry: For your main entry, leave a comment about Ozzy***
Extra Credit Entries: (must do main entry first- post a separate comment for each extra credit entry)
* Fan the NEW Sweeps4Bloggers Facebook Page (2 Entries)
* Post my button on your blog and comment with the link
* Follow Me on Twitter and tweet about the giveaway and comment with the link to your tweet (you may TWEET DAILY for 1 bonus entry each day)
* Follow Grand Central Publishing on Twitter
* Post on your blog about the giveaway and comment with the link (5 entries)
* Fan Ozzy on Facebook
* Enter another one of my BOOK giveaways and let me know which one you entered (enter as many as you'd like, but only 1 bonus entry)
Giveaway ends on March 6, 2010 at 8pm Pacific Time. Giveaway is open for US & Canadian mailing addresses only. Winner will have 48 hours to respond to notification with shipping info – if no response, another winner will be chosen . Subject to the official rules. No purchase necessary – void where prohibited by law. Disclaimer/Disclosure: Review product was provided to me.