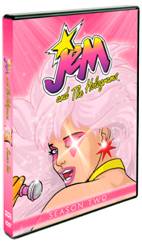 Jem and The Holograms
Season Two
4 Disc DVD Set
Shout Factory ~ Hasbro
Release Date 2/14/12
Synopsis: Upon the death of her father, Jerrica Benton inherits Starlight Music and finds herself the new co-owner executive alongside the greedy, power-hungry Eric Raymond. Eric is on a mission to seize complete control of Starlight Music as well as use it to launch to stardom his latest discovery — rockin' rebel girl band The Misfits.
With the help of Synergy — a computer holographic machine created by her father — and a pair of special jemstar earrings, Jerrica is able to transform into the megapop sensation named Jem! With her sister, Kimber, and their band, The Holograms, Jem takes on a battle of the bands competition against Eric and The Misfits for control of Starlight Music. Can Jerrica keep her superstar identity a secret? Will The Misfits rock the charts? Will Synergy fall into the hands of evil? Watch and find out.
Hooray for Shout! Factory! I love that they are doing their part to bring back classic television shows.
Jem and the Holograms is a piece of 1980's history. The show originally aired from 1985 to 1988 and really does capture the spirit of the decade.
Jem and her buddies keep busy making music and fighting crime all while sporting trendy 80's clothing, hair and makeup. Yes, they are cartoons, but I do remember wearing outfits like theirs back in the day.
The dvd includes all of the season two episodes and a bonus video jukebox. That's about 10 hours of programming.
Jem and the Holograms is all about girl power. They show girls that they can be smart, strong and girly. It's empowering to see girls reaching for their dreams and making the world a better place.
This dvd will appeal to kids who are new to Jem and to adults who want to relive their youth.
HOW TO CONNECT – You can like Shout Factory on Facebook and follow them on Twitter.
PRIZE – Jem and the Holograms Season 2 – 5 Winners – ARV $25
Here's what you need to do to enter to win ….
***MANDATORY ENTRY: Leave a comment – just say something nice ***
Optional Bonus Entries: (must do mandatory entry first- post a separate comment for each bonus entry)
* Like  Sweeps4Bloggers on Facebook
* Subscribe to Sweeps4Bloggers by email (green sidebar button)
* Subscribe to Sweeps4Bloggers by reader (Orange sidebar button)
* Post my button on your blog and comment with the link
* Follow Sweeps4Bloggers on Twitter
* Tweet about the giveaway and comment with the link to your tweet (you may TWEET DAILY for 1 bonus entry each day)
* Post on your blog/website about the giveaway and comment with the link (5 entries, leave 5 comments)
* Check out  Giveaways4Prizes– add one of your giveaways to a linky or look at what's listed (2 entries, leave 2 comments)
* Like Shout Factory on Facebook
* Follow Shout Factory on Twitter
* Enter  The Mirage giveaway (ends 1/25)
* Enter another current Sweeps4Bloggers giveaway and let me know which one you entered (enter as many as you'd like, but only 1 bonus entry)
Giveaway ends January 26, 2012 at 8pm Pacific Time. Giveaway is open for residents of the US only. No purchase necessary – void where prohibited by law. Winner will have 48 hours to respond to notification with shipping info and claim prize – if no response, another winner will be chosen . Subject to the official rules. Disclaimer/Disclosure: Sample and prize provided by the giveaway sponsor.