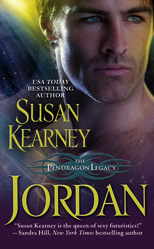 Jordan
The Pendragon Legacy
by Susan Kearney
isbn 978-0446543330
Pub. date 3/1/10
Publisher's description:
A DANGEROUS MISSION
Vivianne Blackstone devotes herself to her career, putting her love life on hold. Her latest project is a spaceship designed to protect Earth from the deadly Tribes. But its engineer, the alluring Jordan McArthur, now threatens both her job and her wary heart . . .
AN UNDENIABLE DESIRE
Jordan's past goes back to King Arthur, and he must find the ancient artifact that can save the galaxy. Vivianne's ship is his best hope, but convincing the fiercely independent beauty won't be easy. Especially when the passion flaring between them burns through their defenses – and love is the last thing they need to survive.
Susan Kearney has crafted over 50 novels! She's written romance, suspense, sci-fi, historical and paranormal romance like this one. This is the third book in the Pendragon Legacy Series – Lucan and Rion were the first two.
Paranormal romance is not my favorite genre. I enjoyed the book and the beautiful cover, but this genre would not be my first choice. If you are a paranormal romance fan, I would highly recommend this and Susan Kearney's other novels.
Fans will want to read the other Pendragon books, but the story stands alone if you read this one without reading the others.
HOW TO CONNECT – You can follow Forever Romance on Twitter and sign up for Susan Kearney's mailing list.
WHERE TO BUY – Jordan is available at Amazon as part of their 4 for 3 promotion.
PRIZE ALERT – Hachette Book Group would like to give Jordan to ***5*** of you (ARV $6.99)
Here's what ya gotta do to enter to win ….
***MAIN ENTRY: For your main entry, leave a comment about the book or author**
Extra Credit Entries: (must do main entry first- post a separate comment for each extra credit entry)
* Fan Sweeps4Bloggers on Facebook
* Subscribe to Sweeps4Bloggers (Orange sidebar button for RSS and/or green button for email)
* Post my button on your blog and comment with the link
* Follow Me on Twitter
* Tweet about the giveaway and comment with the link to your tweet (you may TWEET DAILY for 1 bonus entry each day)
* Follow Forever Romance on Twitter
* Post on your blog/website about the giveaway and comment with the link (5 entries)
* Enter my Flat Iron Experts giveaway
* Enter another one of my giveaways and let me know which one you entered (enter as many as you'd like, but only 1 bonus entry)
Giveaway ends on April 9, 2010 at 8pm Pacific Time. Giveaway is open for residents of the US & Canada only. Winner will have 48 hours to respond to notification with shipping info and claim prize – if no response, another winner will be chosen . Subject to the official rules. No purchase necessary – void where prohibited by law. Disclaimer/Disclosure: Review product and prize provided by the giveaway sponsor. No monetary compensation received.