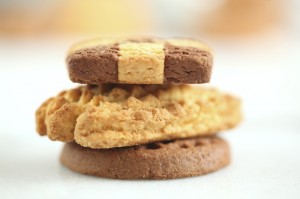 Jovial Foods
Inherently Good
About: Jovial Einkorn cookies celebrate the sweet return of nature's most ancient variety of wheat. Each artfully patterned cookie is artisan crafted in Italy by our passionate family-owned bakery. Jovial cookies are not overly sweet or rich, equally perfect for eating straight from the box, or dipping in coffee, tea or milk. Einkorn is much more nutritious than modern wheat so each serving contains 3 grams of protein.
Hooray – it's another giveaway from Jovial Foods!
Jovial is committed to making products with good ingredients and good flavor. They have a line of tasty gluten free products that I featured previously. And they have organic cookies and pastas made from einkorn wheat.
A lot of us are concerned with GMOs these days. Jovial is concerned about genetically modified foods, but they take it another step further. They're also concerned with what has happened to our food supply due to hybrids. Hybrids have been developed to make crops more commercially viable – carrots that are long and straight, apples that can sit on a shelf for months, produce that can withstand mechanical harvesting techniques … These developments may help a corporation make more money, but they can also result in food that doesn't have the same flavor or nutritional value.
This led Jovial foods to einkorn – an ancient variety of wheat that was first cultivated over 12,000 years ago. It has great flavor and fantastic nutritional value. Each cookie serving contains 3 grams of protein.  Cookies are fun when they taste good. They're even more fun when I know I'm giving my body something it needs.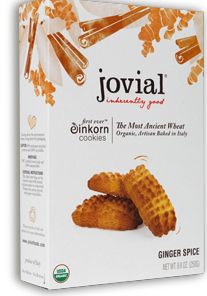 There are 3 varieties of USDA Certified Organic Jovial cookies made with einkorn.
Crispy Cocoa (vegan)
Ginger Spice
Checkerboard
The cookies are satisfying and tasty. Each one is crispy and firm. They're nice to eat right out of the box or they are firm enough to dip into milk or coffee. I like them all and don't really have a favorite. The ginger is quite yummy when dipped in coffee.
They've got just the right amount of sweetness. They are definitely cookies, but they don't taste like junk food at all.
Jovial cookies are delicious and it's great to promote a return to nutritional heirloom foods.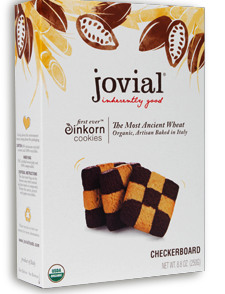 HOW TO CONNECT – You can like Jovial Foods on Facebook and follow them on Twitter.
PRIZE – Jovial Foods would like to give an organic prize package to **2** of you – Einkorn Checkerboard Cookies, Einkorn Ginger Spice Cookies and Crispy Cocoa Cookies  (ARV $14)
***MANDATORY ENTRY: Leave a comment – just say something nice ***
Extra Credit Entries: (must do mandatory entry first- post a separate comment for each optional extra credit entry)
* Like Sweeps4Bloggers on Facebook
* Subscribe to Sweeps4Bloggers by email (green sidebar button)
* Subscribe to Sweeps4Bloggers by reader (Orange sidebar button)
* Post my button on your blog and comment with the link
* Follow Sweeps4Bloggers on Twitter
* Tweet about the giveaway and comment with the link to your tweet (you may TWEET DAILY for 1 bonus entry each day)
* Post on your blog/website about the giveaway and comment with the link (5 entries, leave 5 comments)
* Check out Giveaways4Prizes– add one of your giveaways to a linky or look at what's listed (2 entries, leave 2 comments)
* Follow Jovial on Twitter
* Like Jovial on Facebook
* Enter the Dadgum That's Good! giveaway (ends 6/10)
* Enter another current Sweeps4Bloggers giveaway and let me know which one you entered (enter as many as you'd like, but only 1 bonus entry)
Giveaway ends June 11, 2011 at 8pm Pacific Time. Giveaway is open for residents of the US  only. No purchase necessary – void where prohibited by law. Winner will have 48 hours to respond to email notification with shipping info and claim prize – if no response, another winner will be chosen . Subject to the official rules. Disclaimer/Disclosure: Sample and prize provided by sponsor.