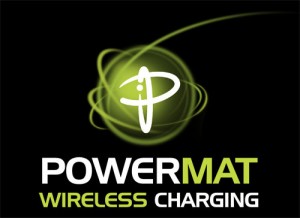 Powermat
About: No more tangled mess of cords or searching for the right adapter, simply place your enabled device on the Powermat to charge. Featuring a full range of wireless charging solutions for all your favorite devices, Powermat is compatible with iPhone, BlackBerry, MP3 players, cell phones, headsets, hand held electronic games, digital cameras, and GPS units. Whether you charge at home, at the office, on the road, or in all of these places, Powermat has a solution for you.
Powermat technology will revolutionize the way we charge.
Powermat. Charge Your Life.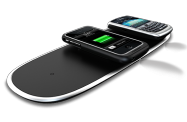 So… I am not typically the first one on the block to run out and buy the latest tech device. I've been hearing about Powermat online and hadn't really paid attention to what it was. But then I saw how cool it looks – the Home and Office Mat looks kind of like a high tech skateboard deck. Then I had to read up on it. And, of course, that made me want to try it out.
The system consists of a mat (base station) and receivers for the device that you want to charge. They have mats to charge individual items, but the really practical ones are the ones that can charge 3 devices at the same time – the sleek looking Home & Office Mat and the foldable Portable Mat. I really like the idea of having a centralized charging station at home for all of our little devices – phones, music and games. It's so easy that we're much less likely to forget to keep things charged.

The Home & Office Mat set includes:
Home & Office Mat with space to charge 3 devices at once
Universal Power Supply cord
Powercube Universal Receiver with 8 tips
Powermat makes receivers for many specific items (iPod, iPhone 3G, iPod Touch, BlackBerry Tour, BlackBerry Bold 9000, BlackBerry Curve 8300, BlackBerry Pearl, BlackBerry Curve 8900, Nintendo DS Lite, Nintendo DSi).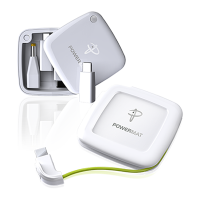 The Powercube Universal Receiver can be used for all kinds of other things. This is what we used for my son's Samsung phone. It can be used for 100's of devices including Apple, Nintendo, Sony PSP, LG and many many more.
The system is really easy to set up and use. It took us awhile to get it going just because my guys were interested in figuring out HOW it works, not just getting it to work. It would have only taken a few minutes to get it out of the box and charging, if that was the only goal.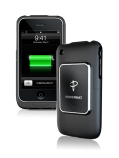 I like that it can be customized for your needs. It's easy to set it up to charge 3 phones for different family members. Or You could charge 3 totally different items, like a phone, iPod and handheld game system. The individual receivers are great and I like the flexibility of the Powercube.
Powermat would be good as a novelty for anyone who likes cool tech products, but it's also very practical for people who need to keep their devices powered up. It's simple to use and looks really cool.
PowermatTV has a lot of helpful videos on YouTube. This one has a good basic overview. Others are more techy and they've got some pretty funny commercials, too.
HOW TO CONNECT – You can like Powermat on Facebook, subscribe to their newsletter and follow them on Twitter.
DEAL ALERT – Free ground shipping on orders over $50 – see site for details.
PRIZE ALERT – Powermat would like to give a Home and Office Mat with up to 3 receivers to 1 of you – winner's choice of receivers (ARV $200 – exact value will be determined by choice of receivers)
Here's what ya gotta do to enter to win ….
***MANDATORY ENTRY: For your main entry, check out Powermat and comment with something you learned***
Extra Credit Entries: (must do mandatory entry first- post a separate comment for each optional extra credit entry)
* Like  Sweeps4Bloggers on Facebook
* Subscribe to Sweeps4Bloggers by email (green sidebar button)
* Subscribe to Sweeps4Bloggers by reader (Orange sidebar button)
* Post my button on your blog and comment with the link
* Follow Sweeps4Bloggers on Twitter
* Tweet about the giveaway and comment with the link to your tweet (you may TWEET DAILY for 1 bonus entry each day)
* Post on your blog/website about the giveaway and comment with the link (5 entries, leave 5 comments)
* Check out  Giveaways4Prizes today – either add one of your giveaways to a linky or check out one of the giveaways that's listed (2 entries, leave 2 comments telling me what you did)
* Follow Powermat on Twitter
* Like Powermat on Facebook
* Subscribe to the Powermat newsletter
* Enter the Stride Femme giveaway (ends 9/22)
* Enter another current Sweeps4Bloggers giveaway and let me know which one you entered (enter as many as you'd like, but only 1 bonus entry)
Giveaway ends September 23, 2010 at 8pm Pacific Time. Giveaway is open for residents of the US and Canada only. No purchase necessary – void where prohibited by law. Winner will have 48 hours to respond to notification with shipping info and claim prize – if no response, another winner will be chosen . Subject to the official rules. Disclaimer/Disclosure: Sample and prize provided by the giveaway sponsor.