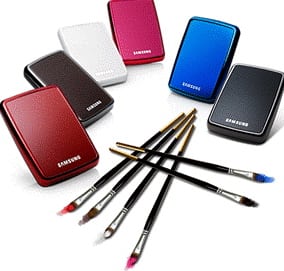 Samsung
S2 Portable External Hard Disk Drive
About: Compact on the outside. Massive on the inside. Smaller and lighter than almost any external hard drive on the market, the S2 is the ideal storage solution for those who need to carry massive amounts of digital content when they're on the go. With it's desktop sized capacity, this pocket sized wonder is powerful enough to store up to 640 GB of information. The unique inclusion of a USB on-board controller reduces the drive's weight and power consumption making it as efficient as it is compact.
I'm not a tech wizard. At all. And I wasn't even really sure what a portable hard disk drive was for or why I would need one. So I did what I always do when it comes to tech devices and I asked one of my teenagers who informed me that we definitely need one of these to store "everything."
The S2 is available with 160, 250, 320, 500 and 640 GB. Those numbers didn't mean a whole lot to me, so I asked my kid if it would be enough to store things like his pictures, artwork and music. He laughed at me. ;) And then he explained that his old laptop only has a 120GB hard drive. So, yes, this small hard drive (less than an inch thick, a little over 3″ wide by 4″ long) has an amazing amount of storage space.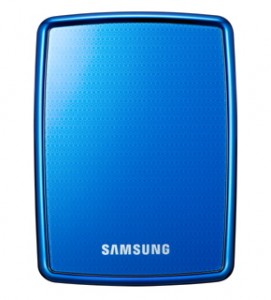 The S2 is available in fun colors to suit your style: Piano Black, Snow White, Wine Red, Chocolate Brown, Sweet Pink and Ocean Blue. It comes preloaded with the software you'll need and includes a protective storage pouch and USB Cable.
As I expected from Samsung, the S2 is very user friendly – just connect it to your computer with the USB cable and follow the easy prompts from the Quick Start Guide to get up and running. It was easy! I saved the manual (without reading it) just in case I need it later, but this is one of those products that just makes sense when you plug it in.
There are 2 ways to protect your data on the hard drive: SafetyKey and SecretZone. Both are password protected and SecretZone encrypts your data for an extra measure of security.
As we become more and more reliant on our computers, the thought of losing it all (financial records, photos, documents, videos….) is pretty scary. The Samsung S2 is a convenient way to backup the things that are important to you!
HOW TO CONNECT – You can like Samsung on Facebook and follow them on Twitter.
PRIZE ALERT – Samsung would like to give a Samsung S2 640 GB Portable Hard Drive to 1 of you (ARV $125)
Here's what ya gotta do to enter to win ….
***MAIN ENTRY: For your main entry, comment with what you would like to put on an S2 Portable Hard Disk Drive**
Extra Credit Entries: (must do main entry first- post a separate comment for each extra credit entry)
* Like Sweeps4Bloggers on Facebook
* Subscribe to Sweeps4Bloggers by email (green sidebar button)
* Subscribe to Sweeps4Bloggers by reader (Orange sidebar button)
* Post my button on your blog and comment with the link
* Follow Me on Twitter
* Tweet about the giveaway and comment with the link to your tweet (you may TWEET DAILY for 1 bonus entry each day)
* Post on your blog/website about the giveaway and comment with the link (5 entries)
* Like SamsungUSA on Facebook
* Follow Samsung HDD on Twitter
* Enter the Shabby Apple Dress giveaway (ends 7/19)
* Enter another current Sweeps4Bloggers giveaway and let me know which one you entered (enter as many as you'd like, but only 1 bonus entry)
Giveaway ends on July 20, 2010 at 8pm Pacific Time. Giveaway is open for residents of the US only. Winner will have 48 hours to respond to notification with shipping info and claim prize – if no response, another winner will be chosen . Subject to the official rules. No purchase necessary – void where prohibited by law. Disclaimer/Disclosure: Review product and prize provided by the giveaway sponsor. No monetary compensation received.