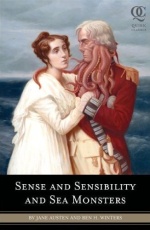 Sense and Sensibility and Sea Monsters
by Jane Austen
and Ben H. Winters
Quirk Books
Pub. Date 9/15/09 isbn 978-1594744426
Publisher's description: Sense and Sensibility and Sea Monsters expands the original text of the beloved Jane Austen novel with all-new scenes of giant lobsters, rampaging octopi, two-headed sea serpents, and other biological monstrosities. As our story opens, the Dashwood sisters are evicted from their childhood home and sent to live on a mysterious island full of savage creatures and dark secrets. While sensible Elinor falls in love with Edward Ferrars, her romantic sister Marianne is courted by both the handsome Willoughby and the hideous man-monster Colonel Brandon. Can the Dashwood sisters triumph over meddlesome matriarchs and unscrupulous rogues to find true love? Or will they fall prey to the tentacles that are forever snapping at their heels? This masterful portrait of Regency England blends Jane Austen's biting social commentary with ultraviolent depictions of sea monsters biting. It's survival of the fittest-and only the swiftest swimmers will find true love!
Fun Fun Fun!  This is a mashup – but it isn't the usual music or video mashup – it is a literary masterpiece! This book is the whole, original Jane Austen Classic – Sense and Sensibility. But it's got sea monsters added in.
I watched the movie of the original to refresh my memory before reading the book. I thoroughly enjoyed the new creation and the creativity that went into writing it. The new sea monster sections are added in skillfully so the whole thing flows together.
And with the sea monsters thrown in – even my teenage son is now interested in Jane Austen.
DEAL ALERT – Sense and Sensibility and Sea Monsters is available at a discount on Amazon.
PRIZE ALERT – FSB Media would like to give 1 of you a copy of Sense and Sensibility and Sea Monsters ($12.95)
Here's what ya gotta do to enter to win ….
***Main Entry: For your main entry, leave a comment about the book ***
Extra Credit Entries: (must do main entry first- post a separate comment for each extra credit entry)
* Post my new button on your blog and comment with the link
* Subscribe to Sweeps4Bloggers by email
* Subscribe to Sweeps4Bloggers by a reader
* Follow Me on Twitter and tweet about the giveaway and comment with the link to your tweet (you may TWEET DAILY for 1 bonus entry each day)
* Subscribe to the Quirk Classics Newsletter
* Post on your blog about the giveaway and comment with the link (5 entries)
* Enter another one of my BOOK giveaways and let me know which one you entered (enter as many as you'd like, but only 1 bonus entry)
Giveaway ends on January 13, 2010 at 8pm Pacific Time. Giveaway is open for US mailing addresses only. Winner will have 48 hours to respond to notification with shipping info – if no response, another winner will be chosen . Subject to the official rules. No purchase necessary – void where prohibited by law. Disclaimer/Disclosure: Review product was provided to me.