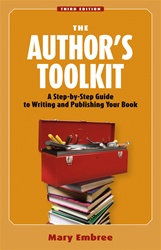 The Author's Toolkit
A Step-by-Step Guide
to Writing and Publishing Your Book
Third Edition
by Mary Embree
isbn 978-1-58115-747-5
Pub. date 11/16/10
Description: Every author yearns for wealth and fame. Aspiring authors, students, writing teachers, and even established authors will be able to get the job done with the Toolkit. Updated and expanded to cover the newest developments in electronic publishing, the growth of self-publishing and print-on-demand, new online copyright registration procedures, effective use of social media for promotion and community, and more. This handy guide offers coaching for every step of the writing and publishing process. Insights are given for writing fiction and nonfiction: nurturing beginning ideas; making full use of resources for planning and research; organizing a plot; delineating characters; avoiding writer pitfalls; following proper writing and editing principles; finding the "hook" to attract publisher interest; creating a manuscript with a professional presentation; seeking literary agents; understanding contracts; publishing electronically; and promoting and marketing a finished book. Written in a concise, easy-to-follow style, this guide also offers a treasure chest of resources for writers seeking professional advice. No one intending to become a published author can afford to be without the tools offered in this volume.
There is a lot more to getting a book published than just writing a good book. In fact, there are many good books that never get published – just as there are some books that make me wonder how they got published.
An author needs to understand the creative aspects of writing a good book and the business aspects of getting that book published. These use a totally different part of the brain and most of us need extra help with one or the other.
I've read many books on this subject and am especially impressed with the detailed explanations and sample letters and contracts. You don't want to end up being one of those artists who creates something wonderful and then ends up poor while someone else makes money off of your creativity.
This is the 3rd edition of this book and it's been updated with current information on the industry. It can help you understand the general process involved in getting published along with specific details.
HOW TO CONNECT – You can like Allworth Press on Facebook and follow them on Twitter.
PRIZE – Allworth Press would like to give The Author's Toolkit to **2** of you (ARV $19.95)
***MANDATORY ENTRY: Leave a comment – just say something nice!  ***
Extra Credit Entries: (must do mandatory entry first- post a separate comment for each optional extra credit entry)
* Like Sweeps4Bloggers on Facebook
* Subscribe to Sweeps4Bloggers by email (green sidebar button)
* Subscribe to Sweeps4Bloggers by reader (Orange sidebar button)
* Post my button on your blog and comment with the link
* Follow Sweeps4Bloggers on Twitter
* Tweet about the giveaway and comment with the link to your tweet (you may TWEET DAILY for 1 bonus entry each day)
* Post on your blog/website about the giveaway and comment with the link (5 entries, leave 5 comments)
* Check out Giveaways4Prizes– add one of your giveaways to a linky or look at what's listed (2 entries, leave 2 comments)
* Follow Allworth Press on Twitter
* Like Allworth Press on Facebook
* Enter the Meridane Jewelry giveaway (ends 6/24)
* Enter another current Sweeps4Bloggers giveaway and let me know which one you entered (enter as many as you'd like, but only 1 bonus entry)
Giveaway ends June 25, 2011 at 8pm Pacific Time. Giveaway is open for residents of the US & Canada only. No purchase necessary – void where prohibited by law. Winner will have 48 hours to respond to email notification with shipping info and claim prize – if no response, another winner will be chosen . Subject to the official rules. Disclaimer/Disclosure: Sample and prize provided by sponsor.