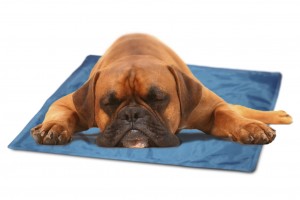 The Green Pet Shop
A better tomorrow starting today.
About: It's all about Re-Using, Re-Cycling, Re-Ducing our Footprint. At The Green pet Shop, we are continually searching for Earth-Friendly products that are easy to use, affordable and unique, while also improving or enhancing the emotional, mental and physical well being of our pet community. Our goal is to put these affordable Eco-Friendly products into as many hands and paws as possible. Some of our products may be more Eco-Friendly than others, but they offer health benefits that weigh heavily into our decision to offer them.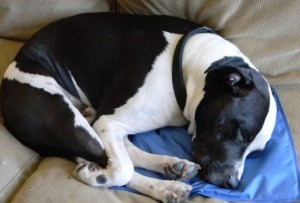 The Cool Pet Pad is a great way to keep your pets comfortable during the summer – and it's super easy to use.
I'm not sure how they do this, but the pad is weight/pressure activated. So as soon as your pet steps on it, the pad gets cool. It doesn't need electricity, water or refrigeration. There's nothing to refill.
It will last for years and years and the only maintenance needed is if it gets dirty, I might need to wipe it clean. That's it.
Just set out the pad and let your pets enjoy it's cooling relief. It's good for when the weather is hot or for when your four-legged friend is achy or in pain due to hip displasia or a skin or other medical condition . (yes…it can also be used as an extra large cold pack for humans!)
We all know that cats have a mind of their own… I wasn't sure if the Cool Pet Pad would be good for my finicky felines or if it would just be good for the dogs. So I set it out last night. The cats had to check it out, since it was new. But they didn't use the Cool Pet Pad. Then this afternoon when it got hot, where did I find the cats? On the Cool Pet Pad. Both of them were trying to get as much of the cool as possible.
The Cool Pet Pad comes in 4 different sizes. It can be used at home, in a crate or in the car. This is a great way to help keep your pets more comfortable.
And…. it's quite nice for humans, too!

HOW TO CONNECT – You can like the NEW Green Pet Shop Facebook page and follow them on Twitter.
PRIZE ALERT – The Green Pet Shop would like to give a small Cool Pet Pad to 1 of you (ARV $19.99)
Here's what ya gotta do to enter to win ….
***MAIN ENTRY: For your main entry, check out The Green Pet Shop and comment with something you learned***
Extra Credit Entries: (must do main entry first- post a separate comment for each extra credit entry)
* Like  Sweeps4Bloggers on Facebook
* Subscribe to Sweeps4Bloggers by email (green sidebar button)
* Subscribe to Sweeps4Bloggers by reader (Orange sidebar button)
* Post my button on your blog and comment with the link
* Follow Me on Twitter
* Tweet about the giveaway and comment with the link to your tweet (you may TWEET DAILY for 1 bonus entry each day)
* Post on your blog/website about the giveaway and comment with the link (5 entries)
* Enter the Angel of Death Row giveaway (ends 7/20)
* Enter another one of my current giveaways and let me know which one you entered (enter as many as you'd like, but only 1 bonus entry)
Giveaway ends on July 21, 2010 at 8pm Pacific Time. Giveaway is open for residents of the US and Canada only. No purchase necessary – void where prohibited by law. Winner will have 48 hours to respond to notification with shipping info and claim prize – if no response, another winner will be chosen . Subject to the official rules. Disclaimer/Disclosure: Sample and prize provided by the giveaway sponsor. No monetary compensation received.