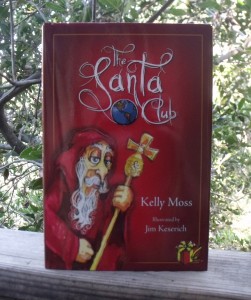 The Santa Club
by Kelly Moss
isbn 978-0982134016
Pub. date 7/1/11
Description: A delightful book with captivating illustrations, The Santa Club transitions your child from receiving gifts to experiencing the joy of giving. With sensitivity, faith, and love, The Santa Club tackles the serious question, "Is Santa Claus Real?" To be read with your child, this wonderful book not only answers that sometimes "dreaded" question but it also addresses the questions of why Santa comes at Christmas and who was the first Santa.  The Santa Club is a wonderful parenting resource and a stunning children's book, and is sure to become an annual family favorite.
This cute book tackles a very serious issue…. Santa Claus.
Each family handles Santa in their own way. It's a personal decision. Some families raise their children to believe that Santa is just a fun and fictional character. Other children believe that the one and only Santa Clause will be literally landing his sleigh on their rooftop and coming down their chimney. Others believe something in between.
This book will help kids transition into understanding the Christmas giving spirit and how Jesus and Santa fit into the big picture. I've heard of some kids who have reacted very badly when someone told them that Santa was not real. The Santa Club makes it fun.
When children are ready for an explanation, this book makes it all special. They'll get to join the club of others who know about Santa and they'll understand why it's important to respect others by allowing them to have their own beliefs.
The illustrations are cute. I'm glad they made this a hardcover book, so it can be read year after year.
Whatever people believe about the specifics of Santa, we can all agree that a generous and giving attitude is a good thing!
PRIZE – The publicist would like to give The Santa Club to 1 of you (ARV $15)
***MANDATORY ENTRY: Leave a comment – just say something nice!  ***
Extra Credit Entries: (must do mandatory entry first- post a separate comment for each optional extra credit entry)
* Like Sweeps4Bloggers on Facebook
* Subscribe to Sweeps4Bloggers by email (green sidebar button)
* Subscribe to Sweeps4Bloggers by reader (Orange sidebar button)
* Post my button on your blog and comment with the link
* Follow Sweeps4Bloggers on Twitter
* Tweet about the giveaway and comment with the link to your tweet (you may TWEET DAILY for 1 bonus entry each day)
* Post on your blog/website about the giveaway and comment with the link (5 entries, leave 5 comments)
* Check out Giveaways4Prizes– add one of your giveaways to a linky or look at what's listed (2 entries, leave 2 comments)
* Enter the Sockprints Giveaway
* Enter another current Sweeps4Bloggers giveaway and let me know which one you entered (enter as many as you'd like, but only 1 bonus entry)
Giveaway ends September 10, 2011 at 8pm Pacific Time. Giveaway is open for residents of the US & Canada only. No purchase necessary – void where prohibited by law. Winner will have 48 hours to respond to email notification with shipping info and claim prize – if no response, another winner will be chosen . Subject to the official rules. Disclaimer/Disclosure: Sample and prize provided by sponsor.