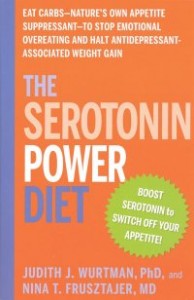 The Serotonin Power Diet
by Judith J. Wurtzman, PhD
and Nina T. Frusztajer, MD
isbn 978-1594869723
Pub. Date 12/22/09
About: Boost Serotonin to switch off your appetite and turn on a good mood. Serotonin is the brain's natural "feel good" chemical and appetite suppressant. Through decades of medical research at MIT, Judy's husband Richard J. Wurtman, MD, discovered that your brain makes serotonin when you eat foods such as pretzels, pasta, rice, and potatoes—in the right amounts, at the right times of the day, and without protein. Judy discovered that serotonin curbs your appetite, restores mental energy, and soothes emotional stress.
I'm not an expert on food, health or nutrition so I like to turn to experts for information on these important topics. I was happy to see that The Serotonin Power Diet is written by 2 smart women – one with a PhD and the other with an MD. And this book is published by Rodale that often has books that I find helpful.
Diet and nutrition advice often change – and the advice about carbs has dramatically changed in ways that didn't make sense to me. In the 80's the focus was on carbs – as in EAT MORE CARBS. Then all of a sudden, the focus was on reducing or even completely removing carbs.
These 2 doctors offer some compelling information (with years of research to back it up) to help both with weight loss and with overall well-being. If you're looking for a complete diet transformation with weight loss, there are charts and tools to put this into place. If you're just looking for ideas for a healthy lifestyle with foods that help you look and feel good, that information is here, too. It makes send that we should eat foods that make us feel good!
The recipe section is fabulous! I marked a lot of them to try – the instructions look simple and most of the ingredients are basic items that I regularly keep on hand or can easily find at budget friendly prices. A few of my favorites are: Carrot Cumin Soup , Pasta Shells with Smoked Salmon and Creamy Broccoli Rice.
HOW TO CONNECT – You can fan The Serotonin Power Diet on Facebook and subscribe to their blog.
WHERE TO BUY – The Serotonin Power Diet is available at a discount on Amazon.
PRIZE ALERT – The publicist would like to give The Serotonin Power Diet to 1 of you (ARV $15.99)
Here's what ya gotta do to enter to win ….
***Main Entry: For your main entry, comment about the book or the authors***
Extra Credit Entries: (must do main entry first- post a separate comment for each extra credit entry)
* Post my new button on your blog and comment with the link
* Subscribe to Sweeps4Bloggers by email
* Subscribe to Sweeps4Bloggers by a reader
* Follow Me on Twitter and tweet about the giveaway and comment with the link to your tweet (you may TWEET DAILY for 1 bonus entry each day)
* Post on your blog about the giveaway and comment with the link (5 entries)
* Fan The Serotonin Power Diet on Facebook
* Subscribe to The Serotonin Power Diet blog
* Enter another one of my BOOK giveaways and let me know which one you entered (enter as many as you'd like, but only 1 bonus entry)
Giveaway ends on February 11, 2010 at 8pm Pacific Time. Giveaway is open for US & Canadian mailing addresses only. Winner will have 48 hours to respond to notification with shipping info – if no response, another winner will be chosen . Subject to the official rules. No purchase necessary – void where prohibited by law. Disclaimer/Disclosure: Review product was provided to me.