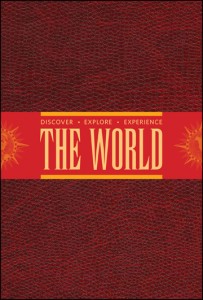 The World
Discover, Explore, Experience
isbn 9780843709094
Pub. date 10/15/09
Publisher's description: Hammond's The World is a luxury, leather-styled pocket atlas that captures the romantic, adventurous spirit of yesterday's explorers. Beautiful on the outside, it also features Hammond's precise and up-to-date mapping on the inside- making it a perfectly accurate gift for all adventurers, whether planning a trip or dreaming of one.
The World is beautiful! I know…usually I would want to talk about the content of the book first, but with this book it's the physical beauty that I noticed first. It's bound with a leather like cover and has an attached ribbon bookmark. The red and yellow label in the picture is just a paper tag – the book itself is embossed with "The World." This book looks like an old, treasured family heirloom.
But… the content is up to date! You can learn about all of the continents through maps, photographs, biographies and interesting facts. I especially like the "Places to Explore" sections. The kids and I have enjoyed learning about places that we have already been and places that we would like to go.
The World would make a great gift for travelers and dreamers!
HOW TO CONNECT – You can subscribe to the Langenscheidt newsletter, Fan/Like them on Facebook and follow them onTwitter. You can also follow Hammond World Atlas on Twitter.
PRIZE ALERT – Langenscheidt Publishing Group would like to give The World to ***2*** of you (ARV $19.99)
Here's what ya gotta do to enter to win ….
***MAIN ENTRY: For your main entry, comment with another Langenscheidt book you would like to have***
Extra Credit Entries: (must do main entry first- post a separate comment for each extra credit entry)
* Fan/Like Sweeps4Bloggers on Facebook
* Subscribe to Sweeps4Bloggers (Orange sidebar button for RSS and/or green button for email)
* Follow Me on Twitter
* Tweet about the giveaway and comment with the link to your tweet (you may TWEET DAILY for 1 bonus entry each day)
* Fan/Like Langenscheidt on Facebook
* Follow Langenscheidt on Twitter
* Follow Hammond World Atlas on Twitter
* Subscribe to the Langenscheidt newsletter
* Post on your blog/website about the giveaway and comment with the link (5 entries)
* Enter my Chamonix giveaway (ends 6/5)
* Enter another one of my giveaways and let me know which one you entered (enter as many as you'd like, but only 1 bonus entry)
Giveaway ends on June 6, 2010 at 8pm Pacific Time. Giveaway is open for residents of the US & Canada only. Winner will have 48 hours to respond to notification with shipping info and claim prize – if no response, another winner will be chosen . Subject to the official rules. No purchase necessary – void where prohibited by law. Disclaimer/Disclosure: Review product was provided to me.