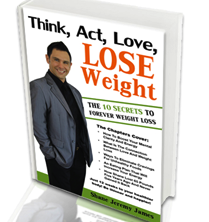 Think, Act, Love, Lose Weight
The 10 Secrets to Forever Weight Loss
by Shane Jeremy James
isbn 978-0615474410
Pub. date 4/29/11
Description: Get ready to become a new you! In 12 weeks from now or less you can have the mindset and the lean, healthy body you have always wanted.
After losing 65 pounds himself and going from unemployed to a top motivational speaker, Shane Jeremy James has worked with hundreds of thousands of people around the world. He has found that to achieve your ideal body it is necessary to recondition your mindset at its core.
The secret to achievign dramatic weight loss is to first change your psychology – to shift the way you think about yourself, your health and your life.
Shane Jeremy James wants to help you look good. Beyond that, he really wants you to feel good, be healthy and have a good life. This involves change from within, not just changing your outward appearance.
Most of the book is about getting your mind in the right place, so that you can lose weight and keep it off. To do this you need to understand how the body, mind and emotions work. Then you can shift your thinking and put your plan in place.
The last 2 chapters are about food and exercise. The recipes look good and satisfying. The exercises are basic and can be done at home without expensive exercise equipment.
HOW TO CONNECT – You can like the author on Facebook and follow him on Twitter.
WHERE TO BUY – The book is available on Amazon.
PRIZE – The publicist would like to give Think, Act, Love, Lose Weight to **5** of you (ARV $16.95)
***MANDATORY ENTRY: Leave a comment – just say something nice!  ***
Extra Credit Entries: (must do mandatory entry first- post a separate comment for each optional extra credit entry)
* Like Sweeps4Bloggers on Facebook
* Subscribe to Sweeps4Bloggers by email (green sidebar button)
* Subscribe to Sweeps4Bloggers by reader (Orange sidebar button)
* Post my button on your blog and comment with the link
* Follow Sweeps4Bloggers on Twitter
* Tweet about the giveaway and comment with the link to your tweet (you may TWEET DAILY for 1 bonus entry each day)
* Post on your blog/website about the giveaway and comment with the link (5 entries, leave 5 comments)
* Check out Giveaways4Prizes– add one of your giveaways to a linky or look at what's listed (2 entries, leave 2 comments)
* Follow the author on Twitter
* Like the author on Facebook
* Enter the Slime Emergency Tire Repair Kit giveaway
* Enter another current Sweeps4Bloggers giveaway and let me know which one you entered (enter as many as you'd like, but only 1 bonus entry)
Giveaway ends June 19, 2011 at 8pm Pacific Time. Giveaway is open for residents of the US & Canada only. No purchase necessary – void where prohibited by law. Winner will have 48 hours to respond to email notification with shipping info and claim prize – if no response, another winner will be chosen . Subject to the official rules. Disclaimer/Disclosure: Sample and prize provided by sponsor.