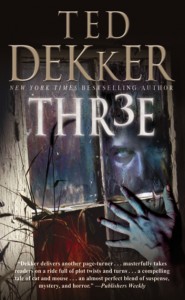 Thr3e
by Ted Dekker
isbn 9781599953144
Pub. date 11/3/10
Description: By all accounts seminary student Kevin Parsins is leading a good, if not virtuous, life. But like all people, Kevin has his secrets. And someone wants them revealed.
While driving home from a day at graduate school, Kevin receives a call from a mysterious stranger who calls himself Slater. Slater demands Kevin confess his sin in the next three minutes or the vehicle he is manning will be blown to pieces.
Thus starts a harrowing chain of events. After narrowly escaping his exploding car, Kevin continues to receive phone calls from Slater, each with another riddle, another consequence, and another three minutes to confess his sin.
The problem is Kevin is unsure of what that sin might be. And Slater's cycle won't stop until he figures it out.
When I first read the description of this book, I thought it sounded like the right genre for my son. As soon as the book arrived, he snatched it up and asked if he could read it.
The first day, he read just a few pages. When I asked him how he liked it, he said it was too soon to tell.
The second day was not too soon to tell. He read 180 pages and I had to tell him to put the book away and get some sleep.
I'm told it's a real page turner with lots of twists and turns. Some of the turns are totally unexpected, so it will keep you guessing.
HOW TO CONNECT – You can like Ted Dekker on Facebook and follow him onTwitter.
WHERE TO BUY – Thr3e is available on Amazon.
PRIZE – Hachette Book Group would like to give Thr3e to **3** of you (ARV $7.99)
Here's what you need to do to enter to win ….
***MANDATORY ENTRY: Comment about the book or author***
Optional Bonus Entries: (must do mandatory entry first- post a separate comment for each bonus entry)
* Like  Sweeps4Bloggers on Facebook
* Subscribe to Sweeps4Bloggers by email (green sidebar button)
* Subscribe to Sweeps4Bloggers by reader (Orange sidebar button)
* Post my button on your blog and comment with the link
* Follow Sweeps4Bloggers on Twitter
* Tweet about the giveaway and comment with the link to your tweet (you may TWEET DAILY for 1 bonus entry each day)
* Post on your blog/website about the giveaway and comment with the link (5 entries, leave 5 comments)
* Check out  Giveaways4Prizes– either add a giveaway to a linky or look at what's listed (2 entries, leave 2 comments)
* Like the author on Facebook
* Follow the author on Twitter
* Enter the CoolCare giveaway (ends 1/2)
* Enter another current Sweeps4Bloggers giveaway and let me know which one you entered (enter as many as you'd like, but only 1 bonus entry)
Giveaway ends January 2, 2011 at 8pm Pacific Time. Giveaway is open for residents of the US & Canada only. No purchase necessary – void where prohibited by law. Winner will have 48 hours to respond to notification with shipping info and claim prize – if no response, another winner will be chosen . Subject to the official rules. Disclaimer/Disclosure: Sample and prize provided by the giveaway sponsor.