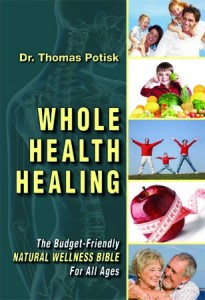 Whole Health Healing
The Budget-Friendly Natural Wellness Bible for All Ages
by Dr. Thomas Potisk
isbn 978-1595980694
Pub. date 4/1/10
Description: Dr. Tom Potisk, one of America's top natural health practitioners, provides information and tips to help you make wiser healthcare decisions, save money and time, and become healthier. This book frees you from depending on conventional medical care alone. Dr. Potisk's extensive training and experience, combined with his easy-to-implement instructions in this book are revolutionizing healthcare worldwide.
Whole Heath Healing is a great home resource. You'll want to read it to get a good overview and then refer back to it as needed.
We don't have full control over our health and sometimes bad things do happen. However, there are many things that we can do that will have a positive impact on our overall well-being.
There are obvious things like diet and exercise and he provides tips on how to enjoy eating right and getting needed exercise. He also includes other preventative medicine and information on what to do when something does go wrong.
He has a whole section on posture that I found very interesting. When you're posture is off, it can set off reactions throughout the body.
Sometimes we do need to visit our healthcare providers, but it's nice to do what we can to minimize those visits and have a healthier life.
HOW TO CONNECT – You can like the author on Facebook and follow him onTwitter.
WHERE TO BUY – Whole Health Healing is available on Amazon.
PRIZE – The author would like to give Whole Health Healing to 1 of you (ARV $24.95)
Here's what you need to do to enter to win ….
***MANDATORY ENTRY: Comment about the book or author***
Optional Bonus Entries: (must do mandatory entry first- post a separate comment for each bonus entry)
* Like  Sweeps4Bloggers on Facebook
* Subscribe to Sweeps4Bloggers by email (green sidebar button)
* Subscribe to Sweeps4Bloggers by reader (Orange sidebar button)
* Post my button on your blog and comment with the link
* Follow Sweeps4Bloggers on Twitter
* Tweet about the giveaway and comment with the link to your tweet (you may TWEET DAILY for 1 bonus entry each day)
* Post on your blog/website about the giveaway and comment with the link (5 entries, leave 5 comments)
* Check out  Giveaways4Prizes– add one of your giveaways or look at what's listed (2 entries, leave 2 comments)
* Follow Grand Central Publishing on Twitter
* Like the author on Facebook
* Follow the author on Twitter
* Enter the Euphemania giveaway (ends 1/5)
* Enter another current Sweeps4Bloggers giveaway and let me know which one you entered (enter as many as you'd like, but only 1 bonus entry)
Giveaway ends January 6, 2011 at 8pm Pacific Time. Giveaway is open for residents of the US & Canada only. No purchase necessary – void where prohibited by law. Winner will have 48 hours to respond to notification with shipping info and claim prize – if no response, another winner will be chosen . Subject to the official rules. Disclaimer/Disclosure: Sample and prize provided by the giveaway sponsor.