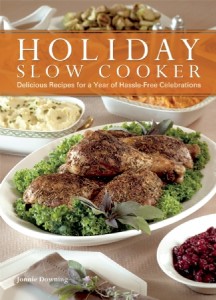 Holiday Slow Cooker
Delicious Recipes for a Year of Hassle-Free Celebrations
By Jonnie Downing
isbn 978-1-61243-102-4
Pub. date 11/13/12
Description: "Preparing a big meal to enjoy with friends and family is one of the best parts of celebrating holidays. But it can often be overwhelming! Now with this book and a trusty slow cooker, it's a snap to craft perfect holiday dinners with minimal stress. Featuring more than 100 delicious recipes for every festive occasion — including Thanksgiving, Hanukkah, Christmas, Easter, and many more — this book will become an indispensable part of holiday traditions. In addition to sophisticated recipe ideas, the book is stuffed with helpful tips for using a slow cooker to get the most out of any kitchen."
A slow cooker can be helpful any day. Family meals can be less stressful and the food can be oh so very good.
During the holidays, when we're extra busy and entertaining guests a slow cooker is an especially wonderful kitchen appliance.
Holiday Slow Cooker has recipes to take you from New Year's all the way through to Hanukkah and Christmas. You'll find recipes for dishes that may already have been on your to do list, but now you'll be able to ease the stress by preparing them in a slow cooker. Many of them are for things I had never considered preparing in my slow cooker. I'm realizing that I should be using it a whole lot more.
Here are a few of the recipes that would be especially good to serve this time of year:
Classic Green Bean Casserole
Cornbread Dressing
Creamy Scalloped Potatoes
Hearty Vegetable Stew
Sugar Baked Apples
Cinnamon Bread Pudding
Chunky Applesauce
The photographs are very appetizing and the recipes are clearly explained. The cookbook will be helpful for experiences and novice slow cooker users.
CONNECT – You can like Ulysses Press on Facebook and Follow them on Twitter.
Enter daily through the Rafflecopter form below: