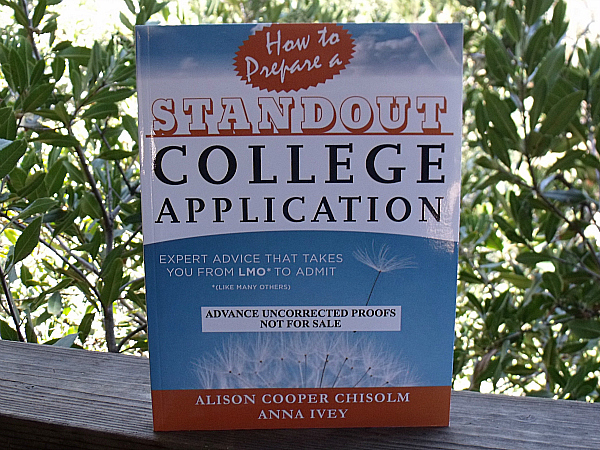 Getting into college is hard work and good grades are often not enough. When colleges have thousands of qualified applicants for a handful of openings, potential students need to make their application standout in the crowd amongst the other applicants who may have very similar academic backgrounds.
Alison Cooper Chisolm and Anna Ivey have experience working as university admissions officers. They are now using their skills and knowledge in their own admissions coaching business. They have also authored this book to help students understand how to fill out each section of the application (including the essay) in a way that will get them noticed and accepted.
How to Prepare a Standout College Application

Expert Advice that Takes You from LMO* (*Like Many Others) to Admit
by Alison Cooper Chisolm and Anna Ivey
isbn 978-1118414408
Pub. date 8/26/13
Synopsis: "Written by two former admissions officers at top universities and current admissions coaches, this book is a must-have for preparing a winning college application. The authors reveal the mystery behind what college admissions officers are looking for and show applicants how to leverage their credentials, stand out in the over-crowded applicants' pool, and make a genuine, memorable impression. This is the book that will help the college-bound get off the "like many others" pile and onto the acceptance list."
The book is clearly written and organized well. It includes up to date information that can help young adults get that sought after acceptance letter.
Enter daily through the Rafflecopter form below: