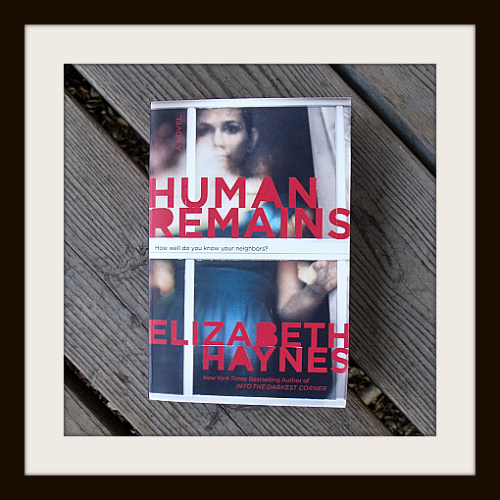 Thrillers are my favorite genre and Elizabeth Haynes knows how to craft good ones!
In addition to writing, Elizabeth Haynes works as a police intelligence analyst where she looks for patterns in criminal behavior. The skills she uses in her day job are also beneficial for her writing.
I've enjoyed her previous novels, Dark Tide and Into The Darkest Corner, and am expecting Human Remains to be on the best sellers lists as well.
Human Remains

A Novel
by Elizabeth Haynes
isbn 978-0062276766
Pub. date 8/20/13
Synopsis: "Police analyst Annabel wouldn't describe herself as lonely. Her work and the needs of her aging mother keep her busy. But Annabel is shocked when she discovers her neighbor's decomposing body in the house next door, and she is appalled to think that no one, including herself, noticed the woman's absence. Annabel sets out to investigate, despite her colleagues' lack of interest, and discovers that such cases are frighteningly common in her hometown."
The typical thriller often involves passionate relationships between characters. This novel is different in that the focus is on loners and what can happen when we don't have people looking after us. It's chilling in a whole new way.
If something happened to you, how long would it take for someone to notice?
CONNECT – You can follow HarperBooks on Twitter.
Enter daily through the Rafflecopter form below: