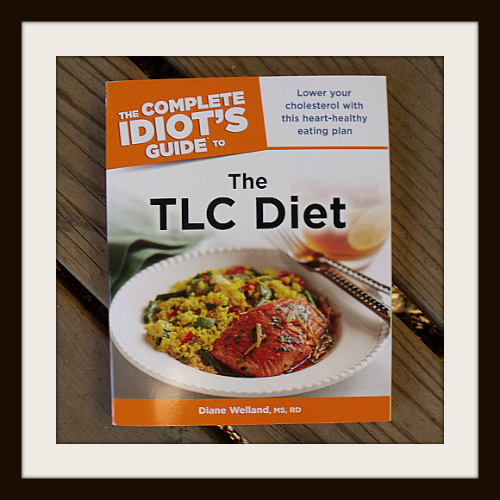 I've been hearing lots of buzz about the TLC Diet, but didn't know exactly what it is. Now, I do, thanks to Diane Welland and The Complete Idiot's Guide. As expected, the book does a great job of clearly explaining what the diet is and how to follow it.
TLC stands for Therapeutic Lifestyle Changes. As the name indicates, this diet focuses on lifestyle change for longterm results. It's not meant to be a quick crash diet, but is designed to help people adjust their behavior so that they can have a healthier life.
The heart healthy eating plan includes low cholesterol foods that are low in saturated fats. These can be beneficial to all, whether you have specific health concerns or are already basically healthy.
The Complete Idiot's Guide to the TLC Diet

by Diane A. Welland, M.S., R.D.
isbn 9781615642380
Pub. date 12/31/12
Synopsis: "Unlike other diets that offer a step-by-step plan, TLC requires effort and attention on the part of the follower for long-term success. The Complete Idiot's Guide® to the TLC Dietoffers readers a structured program not only for eating and cooking for TLC success, but it offers guidance for healthy lifestyle changes that will provide a non-gimmick, medically-proven plan for anyone interested in healthy, life-changing results. Readers will learn the often confusing differences between "good" and "bad" cholesterol, how to cook and eat right to get the desired results, and how to change their lives for the better with this sound, healthy program."
Here are a few of the recipes that look good to me:
Pumpkin Ginger Bread

Tomato Basil White Bean Soup
Grilled Eggplant and Tomato Panini
Summer Vegetable Pasta
Italian Polenta with Wild Mushrooms
CONNECT – You can like Idiot's Guides on Facebook and follow them on Twitter.
Enter daily through the Rafflecopter form below: